Thursday, May 10, 2018
LCHS Virtual Enterprise Takes a Bite Out of the Big Apple
The Lawrence County High School Virtual Enterprise firm, Alpha & Omega visited New York City for the Virtual Enterprise International Trade Fair this past April. The VE International Trade Fair was busier than ever this year, with over 210 firms in attendance from 12 states and 9 different countries.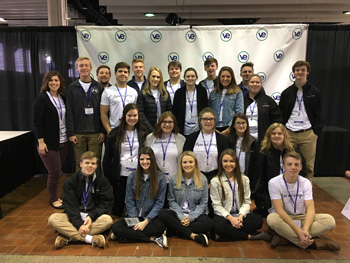 There were over 5,000 participants and over $12.6 million in virtual transactions completed at this year's trade fair. LCHS students had the wonderful experience of networking with these students in order complete their sales transactions.
In addition to showcasing their marketing and sales skills, they had the interesting opportunity to buy products from many of the other virtual firms that were in attendance.
The students spent much time in planning the look for this year's booth, creating marketing materials, and maintaining their website to ensure a positive sales process.
The students were rewarded for their efforts by receiving Silver Level in Booth Design, Sales Pitch, and Sales Materials. Congratulations to all the students on their impressive showing!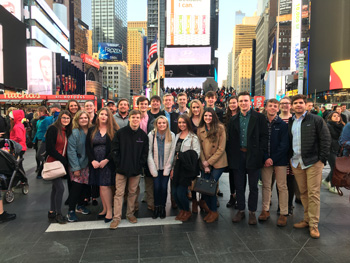 After all the hard work was complete, the LCHS group enjoyed many of the exciting sites that New York City has to offer. After a tiring day at Trade Fair a portion of the group traveled to the Bronx to take in the Yankees vs. Florida Marlins game, where others enjoyed a night at Broadway viewing Phantom of the Opera.
A Broadway show is always a must when visiting New York and this year's whole group enjoyed the lovely production, Anastasia. Other sites visited by the group included the exciting Times Square area, Central Park, Tiffany's, Saint Patrick's Cathedral, the Empire State Building, Grand Central Terminal and Trump Tower. The students also enjoyed a trip to Brooklyn and an exquisite walk over the Brooklyn Bridge.
Before visiting New York the students work in groups to prepare presentations over various landmarks in the area so that they are familiar with the meaning before they arrive. This is especially important for the lower Manhattan area. As the students tour the 9/11 Memorial and Museum they are able to see and hear many touching memories of that day.
The group also toured St. Paul's Chapel and the Survivor Tree. Students also went to the top of the One World Observatory, which provided breathtaking views of the city and surrounding states. A visit to the Financial District allowed the students to see the historic Bull of Wall Street and the New York Stock Exchange.
Dining is always a treat for all and this year's choices included a Junior's, John's Pizzeria, Opry City Stage, dessert and entertainment at Ellen's Stardust Diner, and a slice of pizza from Famous Amadeus Pizza.
Traveling to New York this year were students Meredith Baker, Lauren Beckman, Whit Brewer, Josie Burleson, Anniston Butler, Logan Coleman, Hunter Hagan, Jacob Haney, Andrew Heath, Josie Heatherly, Bailee Hendrix, Jordan Hill, Mary Johnstone, Garrett Martin, Marina McDonald, Rob McGuire, Cara Old, Jacey Peppers, Annsley Watson, Will White, Jacob Whitehead, Dominic Williams, along with their Virtual Enterprise Instructor, Hope McDow,. Also attending were chaperones Lee Sisk, Erin Sisk, Kathy Johnstone, Pam Beckman, Jennifer Massey, Bill Heath, John Johnstone, Quinn Martin, Bette Martin, Shannon Watson, and Kristy Whitehead.
The LCHS Virtual Enterprise students and instructor would like to give thanks to members of the community and local businesses for the support given to them this year. Whether it was a donation, participating in fundraisers, providing a sponsorship, or giving advice when needed, it meant the world to this group! We would like to give a whole hearted thank you for making this incredible experience possible for Alpha and Omega!