Thursday, May 3, 2018
One arrested in connection with January murder
Lawrenceburg Now

Local authorities have reported that an arrest was made Thursday afternoon in connection with a January shooting incident that claimed the life of Leoma resident Zachary Glover, age 27.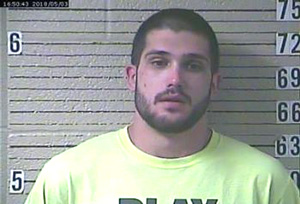 Deputies with the Lawrence County Sheriff's Department responded to Glover's home on Annette Lane on January 16, 2018 and found that he had sustained a gunshot wound. Glover was transported to Southern Tennessee Regional Health Systems Lawrenceburg where authorities said he was pronounced dead.

Bradey Seth Jones, age 24, was arrested Thursday afternoon in connection with Glover's death. He was booked on charges of first degree murder at the Lawrence County Detention Center, with bond set at $1,000,000.