AUCTIONS
APPLIANCE REPAIR
Kelly Appliance & Vacuum 931-244-7200
AIR CONDITIONING
D.E. Hill & Son 762-9584
ASSISTED LIVING
AUTO REPAIR


J & G Tire Center 931-762-0078
BANKS
CONSIGNMENT
On Second Thought Consignment 931-244-7244
CINEMAS
CLINICS
Clothing
On Second Thought Consignment 931-244-7244
COMPUTER REPAIR
DAY SPA
Envy Tanning & Spa 931-762-3689

ELECTRICAL & PLUMBING
Rick's Electrical & Plumbing 931-242-5325
ELECTRONICS
Lynn Electronics 762-0401
EXCAVATING / GRADING
Newton Backhoe Service 931-242-0305
FLORIST

Lawrenceburg Florist 762-3722
McKelvey's Flowers 762-4511

FUNERAL HOMES

Pettus-Turnbo Funeral Home 762-3291
FURNITURE
Green's Furniture
Swap & Shop Center
GIFTS
GLASS REPAIR
Lawrenceburg Glass 766-1004
HARDWARE
HEALTH PRODUCTS
Salt Glow 931-279-4780
HOBBY
INSURANCE
Aarons Insurance 931-629-8065
Baker Agency 762-4550
Wall-Modrall Insurance 762-6528
JEWELRY
Dixon's Fine Jewelry 762-9979
LAWN CARE


Dustin's Lawn Care 242-4414
MEDICAL
NATURAL FOODSNature's Nuggests 762-2895
OUTDOOR
Randy's Cycle & ATV 762-2450
PARTY / SUPPLIES
PAWN
Mo's Pawn Shop 762-2529
PHARMACY
Holland's Pharmacy 931-762-2220
POOLS/ SUPPLIES
By Pass Pools 931-762-7904

REAL ESTATE
RENTAL
RESTAURANTS
SPORTING GOODS
Fox Sporting Goods 931-766-0313


TANNING
Envy Tanning & Spa
931-762-3689
TIRES
Groucho's Tires 931-762-1707
TRAVEL
Tuesday, May 2, 2017
Loretto Band at TMEA State Concert Festival
On Friday, April 28, 2017, they gave an outstanding musical performance at the 2017 Tennessee Music Educators Association's State Concert Festival on the campus of Austin Peay State University in Clarksville, Tennessee.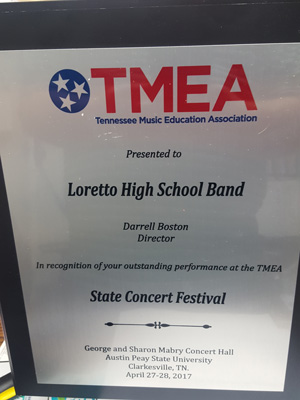 The band performed for some of the top music educators in the world such as Mr. Hal Cooper, Director of Bands (retired), Arkansas Tech University, Dr. Damon Talley, Director of Bands, Louisiana State University, Dr. Emily Threinen, Director of Bands, University of Minnesota, and Dr. Nicholas Williams, Associate Director of Wind Studies University of North Texas.
The band also enjoyed a clinic session with Dr. Emily Threinen, who currently serves as Director of Bands at the University Of Minnesota School Of Music, in this position she conducts the acclaimed Wind Ensemble, guides the graduate wind band conducting program and oversees all aspects of the University of Minnesota Bands.
Dr. Threinen said she was quite honored to be our clinician as she had heard great things from other directors from across the state and was very impressed with our performance.
In the past 7 years the Loretto High School Band has performed five times at the TMEA State Concert Festival and this was the fourth consecutive year for the band to perform. "I am so proud of these kids. They have worked hard preparing for this event and did their very best."
"I am proud my seniors got to experience the state concert festival all four years of their high school career. Something they can be very proud of and remember always. The band represented our school and community with the utmost professionalism." stated Darrell Boston, director.