Monday, April 23, 2018
Two transported to hospital when driver collides with Charter vehicle
Lawrenceburg Now

Loretto officials report that two people were taken to the hospital for medical care Sunday morning when a driver crashed into the back of a Charter Communications vehicle.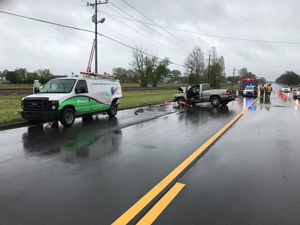 The Loretto Police Department has released information indicating that the crash took place in the 500 block of South Military Street.
The Charter crew was performing work and had pulled onto the shoulder of the roadway. Police officials say that the crew had done what was required of them, activating an emergency light and using cones to close the traffic lane.

A driver of a Chevrolet truck is said to have hit the back of the van while traveling southbound. At the time of the impact, a Charter employee was standing outside of the passenger door, calling for help with traffic control. Both the driver of the truck and the Charter employee were injured and transported to Southern Tennessee Regional Health Systems.

Loretto police officials remind drivers that state law requires them to move over and slow down when approaching emergency vehicles or work crews. They are also warning residents that they should take extra precautions during times of inclement weather.

The accident remains under investigation at this time.