AUCTIONS
APPLIANCE REPAIR
Kelly Appliance & Vacuum 931-244-7200
AIR CONDITIONING
D.E. Hill & Son 762-9584
ASSISTED LIVING
AUTO REPAIR


J & G Tire Center 931-762-0078
BANKS
CONSIGNMENT
On Second Thought Consignment 931-244-7244
CINEMAS
CLINICS
Clothing
On Second Thought Consignment 931-244-7244
COMPUTER REPAIR
DAY SPA
Envy Tanning & Spa 931-762-3689

ELECTRICAL & PLUMBING
Rick's Electrical & Plumbing 931-242-5325
ELECTRONICS
Lynn Electronics 762-0401
EXCAVATING / GRADING
Newton Backhoe Service 931-242-0305
FLORIST

Lawrenceburg Florist 762-3722
McKelvey's Flowers 762-4511

FUNERAL HOMES

Pettus-Turnbo Funeral Home 762-3291
FURNITURE
Green's Furniture
Swap & Shop Center
GIFTS
GLASS REPAIR
Lawrenceburg Glass 766-1004
HARDWARE
HEALTH PRODUCTS
Salt Glow 931-279-4780
HOBBY
INSURANCE
Aarons Insurance 931-629-8065
Baker Agency 762-4550
Wall-Modrall Insurance 762-6528
JEWELRY
Dixon's Fine Jewelry 762-9979
LAWN CARE


Dustin's Lawn Care 242-4414
MEDICAL
NATURAL FOODSNature's Nuggests 762-2895
OUTDOOR
Randy's Cycle & ATV 762-2450
PARTY / SUPPLIES
PAWN
Mo's Pawn Shop 762-2529
PHARMACY
Holland's Pharmacy 931-762-2220
POOLS/ SUPPLIES
By Pass Pools 931-762-7904

REAL ESTATE
RENTAL
RESTAURANTS
SPORTING GOODS
Fox Sporting Goods 931-766-0313


TANNING
Envy Tanning & Spa
931-762-3689
TIRES
Groucho's Tires 931-762-1707
TRAVEL
Thursday, April 20, 2017
Trio arrested in armed robberies of Amish residents
Lawrenceburg Now
Lawrence County Sheriff's Department officials announced Thursday evening that three individuals have been taken into custody in connection with two armed robberies involving Amish residents that occurred on Monday, April 17.
Eighteen year olds Acey Taylor McDougal and Amber Leighann Lawrence were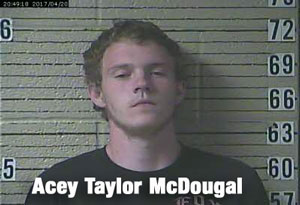 arrested along with twenty-three year old Johnathan Lee Casteel. All three reside in Ethridge.
On Wednesday a press release was issued through the department seeking information from the public in regards to two separate robberies that occurred in the vicinities of Yoder and Oaks Roads.
Authorities indicated that in both incidents the driver of what was believed to be a late 1990s to early 2000s model Ford F150 truck, possibly red in color, blocked the roadway, forcing Amish residents traveling via horse and buggy, to stop.
One victim spoke with deputies at around 8:50 p.m. Monday. He reported that the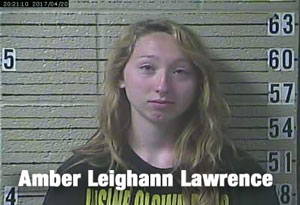 truck had passed his buggy and that he had noticed that the license plate was covered with tape.
He said the driver turned around in a driveway then positioned the truck with the headlights shining toward him, which prevented him from seeing clearly. He said a man exited, armed with a handgun, and demanded that he hand over all of his money.
He told deputies he offered to hand over the $100 in his wallet if the man would allow him to keep his cards. He said the man grabbed his wallet, removed the money, then threw the wallet into the ditch. He told deputies that the man then ran back to the truck, got inside and fled in the direction of Highway 43.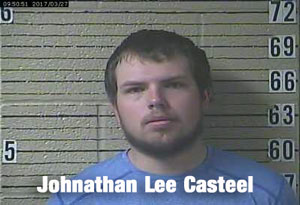 The victim told officers that he stopped at the home of an Amish friend to ask what he should do. He advised him to go to a nearby home and call for help.
Deputies spoke with a second victim who reported a similar experience. He said that the man demanded money but that instead of giving him the cash he pulled on the reins, turned his buggy around and fled. As he fled he said heard what sounded like a gunshot from a small caliber gun. He said he was able to get his family to safety before he called for help.
In both instances, the victims reported that the faces of their attackers were covered. Deputies conducted a search of the area at that time but were unable to locate the suspects.
On Thursday, officials reported that arrests had been made in the cases. Department detectives worked in tandem with investigators from the Giles County Sheriff's Department to identify the suspects.
McDougal, Lawrence, and Casteel are each charged with one count of aggravated robbery, two counts of attempted aggravated robbery, and three counts of aggravated assault.
They were incarcerated at the Lawrence County Detention Center where bond was set at $120,000 apiece for McDougal and Lawrence and $380,000 for Casteel. They report that Casteel's bond was higher due to the fact that, at the time the crimes occurred, he was free on bond in connection with a number of recent mailbox vandalism cases.
Authorities indicate that the trio was also involved in a third armed robbery of Amish residents. That crime occurred across the Giles County line. Each will face additional charges in that jurisdiction.