AUCTIONS
APPLIANCE REPAIR
Kelly Appliance & Vacuum 931-244-7200
AIR CONDITIONING
D.E. Hill & Son 762-9584
ASSISTED LIVING
AUTO REPAIR


J & G Tire Center 931-762-0078
BANKS
CONSIGNMENT
On Second Thought Consignment 931-244-7244
CINEMAS
CLINICS
Clothing
On Second Thought Consignment 931-244-7244
COMPUTER REPAIR
DAY SPA
Envy Tanning & Spa 931-762-3689

ELECTRICAL & PLUMBING
Rick's Electrical & Plumbing 931-242-5325
ELECTRONICS
Lynn Electronics 762-0401
EXCAVATING / GRADING
Newton Backhoe Service 931-242-0305
FLORIST

Lawrenceburg Florist 762-3722
McKelvey's Flowers 762-4511

FUNERAL HOMES

Pettus-Turnbo Funeral Home 762-3291
FURNITURE
Green's Furniture
Swap & Shop Center
GIFTS
GLASS REPAIR
Lawrenceburg Glass 766-1004
HARDWARE
HEALTH PRODUCTS
Salt Glow 931-279-4780
HOBBY
Adventure Off Road 852-5445
INSURANCE
Aarons Insurance 931-629-8065
Baker Agency 762-4550
Wall-Modrall Insurance 762-6528
JEWELRY
Dixon's Fine Jewelry 762-9979
LAWN CARE


Dustin's Lawn Care 242-4414
MEDICAL
NATURAL FOODSNature's Nuggests 762-2895
OUTDOOR
Randy's Cycle & ATV 762-2450
PARTY / SUPPLIES
PAWN
Mo's Pawn Shop 762-2529
PHARMACY
Holland's Pharmacy 931-762-2220
POOLS/ SUPPLIES
By Pass Pools 931-762-7904

REAL ESTATE
RENTAL
RESTAURANTS
SPORTING GOODS
Fox Sporting Goods 931-766-0313
STORAGE
Loretto Storage 931-853-7867

TANNING
Envy Tanning & Spa
931-762-3689
TIRES
Groucho's Tires 931-762-1707
TRAVEL
Wednesday, April 11, 2018
State grant beefing up courtroom security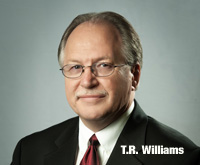 If you've been to the Lawrence County Courthouse in the past two years, you and your belongings were scanned as you walked through a metal detector at the door.
We installed that system because we want to protect the hundreds of people who work and conduct business there every day. Since some of that business is extremely volatile, it makes sense to pay close attention to safety.

Now, thanks to a grant from the Tennessee Administrative Office of the Courts, we are making three significant additions to our security system. I'm thrilled to tell you about these measures and the fact that Lawrence County taxpayers will not pay one cent of the total cost, approximately $27,000.

1. Wireless Alarm System – This includes panic buttons placed out of sight in every office and judges' bench in the Lawrence County Courthouse and Administrative Building. Computer keystroke-operated versions are in several other county buildings. When the button is pushed, courtroom security officers, other law enforcement, my office and others receive immediate notification by phone, radio, and email.

This new system replaces a similar one that has been in place several years, but is now obsolete. Replacement parts, including new/additional panic buttons, were no longer available.

2. X-ray machine repair – Through another nice grant we received several years ago, Lawrence County was able to purchase two x-ray machines to scan Courthouse visitors' belongings. Unfortunately, both were in disrepair when we put our current system in place at the entrance.

3. Video Arraignment System – This will allow our judges to conduct arraignments (where suspects are informed of the charges against them) and set bonds without being physically face-to-face with the accused. Judges will be able to see and talk to defendants in real time through the webcam and software installed their new laptops and a system of cameras, monitors and headsets in the jail. The system is equipped to handle one person's case at a time or mass arraignments/bond hearings if a case involves multiple suspects.

Video arraignment will "virtually" eliminate the safety issues surrounding the transfer of inmates from the jail to a courtroom. Courtroom Security director Lt. Anthony Washburn tells me that inmates could once sit in a courtroom's jury box as they waited for their turn in front of a judge.
Now the group can number 50, 60, or more, and dealing with the overflow is a real challenge for the security team. He says it will reduce the need for manpower the number of inmate appearances in our courtrooms by about 30%.

The system will also allow judges to work wherever their laptops are. We don't like to bother them while they're on vacation, but this will provide the immediate connection that's called for occasionally.

Thanks so much to the Tennessee Administrative Office of the Courts and the improvements this grant is allowing us to make in our security system. Thanks to all who worked to apply for and administer the grant, and to our Courtroom Security team who will make it all work.