AUCTIONS
APPLIANCE REPAIR
Kelly Appliance & Vacuum 931-244-7200
AIR CONDITIONING
D.E. Hill & Son 762-9584
ASSISTED LIVING
AUTO REPAIR


J & G Tire Center 931-762-0078
BANKS
CONSIGNMENT
On Second Thought Consignment 931-244-7244
CINEMAS
CLINICS
Clothing
On Second Thought Consignment 931-244-7244
COMPUTER REPAIR
DAY SPA
Envy Tanning & Spa 931-762-3689

ELECTRICAL & PLUMBING
Rick's Electrical & Plumbing 931-242-5325
ELECTRONICS
Lynn Electronics 762-0401
EXCAVATING / GRADING
Newton Backhoe Service 931-242-0305
FLORIST

Lawrenceburg Florist 762-3722
McKelvey's Flowers 762-4511

FUNERAL HOMES

Pettus-Turnbo Funeral Home 762-3291
FURNITURE
Green's Furniture
Swap & Shop Center
GIFTS
GLASS REPAIR
Lawrenceburg Glass 766-1004
HARDWARE
HEALTH PRODUCTS
Salt Glow 931-279-4780
HOBBY
INSURANCE
Aarons Insurance 931-629-8065
Baker Agency 762-4550
Wall-Modrall Insurance 762-6528
JEWELRY
Dixon's Fine Jewelry 762-9979
LAWN CARE


Dustin's Lawn Care 242-4414
MEDICAL
NATURAL FOODSNature's Nuggests 762-2895
OUTDOOR
Randy's Cycle & ATV 762-2450
PARTY / SUPPLIES
PAWN
Mo's Pawn Shop 762-2529
PHARMACY
Holland's Pharmacy 931-762-2220
POOLS/ SUPPLIES
By Pass Pools 931-762-7904

REAL ESTATE
RENTAL
RESTAURANTS
SPORTING GOODS
Fox Sporting Goods 931-766-0313


TANNING
Envy Tanning & Spa
931-762-3689
TIRES
Groucho's Tires 931-762-1707
TRAVEL
Thursday, April 6, 2017
County Bicentennial events kick off with fundraising Gala
Lawrence County's Bicentennial Committee is kicking off a county-wide celebration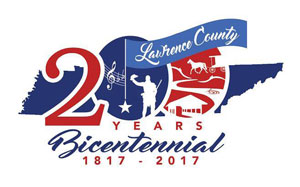 with a banquet-style fundraiser in downtown Loretto Saturday, April 22, 6-9 p.m.
The Bicentennial Gala will feature great food, drinks, and live entertainment by Hunter Abercrombie and Mark Rohling. It will be held under the stars at Weathers Mini-Park, or in case of rain at Loretto Civic Center.
Those in attendance will be the first to know which Grammy-winning artist will headline the Bicentennial Festival concert on August 5. Many activities are planned for downtown Lawrenceburg that day, including the 7 p.m. concert at the Crockett Theatre.
Tickets for the April 22 event are $50 each and go on sale Thursday, April 6 at the following locations: the Lawrence County Chamber of Commerce, 25-B Public Square, Lawrenceburg; Loretto City Hall, 415 North Military Street, Loretto; or at Elliot Insurance (sponsor of the event), 251 North Military Street, Lawrenceburg. They can also be purchased online at www.eventbrite.com.
Email Ryan Egly at Ryan@LawCoTN.com for additional ticket or event inquiries.