AUCTIONS
APPLIANCE REPAIR
Kelly Appliance & Vacuum 931-244-7200
AIR CONDITIONING
D.E. Hill & Son 762-9584
ASSISTED LIVING
AUTO REPAIR


J & G Tire Center 931-762-0078
BANKS
CONSIGNMENT
On Second Thought Consignment 931-244-7244
CINEMAS
CLINICS
Clothing
On Second Thought Consignment 931-244-7244
COMPUTER REPAIR
DAY SPA
Envy Tanning & Spa 931-762-3689

ELECTRICAL & PLUMBING
Rick's Electrical & Plumbing 931-242-5325
ELECTRONICS
Lynn Electronics 762-0401
EXCAVATING / GRADING
Newton Backhoe Service 931-242-0305
FLORIST

Lawrenceburg Florist 762-3722
McKelvey's Flowers 762-4511

FUNERAL HOMES

Pettus-Turnbo Funeral Home 762-3291
FURNITURE
Green's Furniture
Swap & Shop Center
GIFTS
GLASS REPAIR
Lawrenceburg Glass 766-1004
HARDWARE
HEALTH PRODUCTS
Salt Glow 931-279-4780
HOBBY
INSURANCE
Aarons Insurance 931-629-8065
Baker Agency 762-4550
Wall-Modrall Insurance 762-6528
JEWELRY
Dixon's Fine Jewelry 762-9979
LAWN CARE


Dustin's Lawn Care 242-4414
MEDICAL
NATURAL FOODSNature's Nuggests 762-2895
OUTDOOR
Randy's Cycle & ATV 762-2450
PARTY / SUPPLIES
PAWN
Mo's Pawn Shop 762-2529
PHARMACY
Holland's Pharmacy 931-762-2220
POOLS/ SUPPLIES
By Pass Pools 931-762-7904

REAL ESTATE
RENTAL
RESTAURANTS
SPORTING GOODS
Fox Sporting Goods 931-766-0313


TANNING
Envy Tanning & Spa
931-762-3689
TIRES
Groucho's Tires 931-762-1707
TRAVEL
Thursday, March 30, 2017
Charges result from Loretto drug investigation
Lawrenceburg Now
A recent multi-department investigation into drug activity in the Loretto area resulted in the arrest of one local resident.
The Lawrence County Sheriff's Department reported Thursday that the March 20,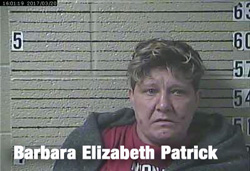 2017 operation resulted in the arrest of fifty-two year old Barbara Elizabeth Patrick of 1106 Lexington Highway in Loretto.
Authorities were alerted to a suspicious package that had been received at the Loretto Post Office. When the package was examined they found that it contained around two ounces of a black tar substance believed to be heroin. Postal officials reported that the person to whom the package was addressed, Patrick, had called several times to check on the status of the delivery.
In a press release agents report, "Authorities were able to arrange a controlled pickup of the package with Barbara Patrick who did show up a short while later to obtain the package." She allegedly confessed to them that she had mailed the package to herself from Arizona.
As a result of the operation Patrick was taken into custody. She was transported to the Lawrence County Detention Center where she was booked on a charge of possession of a Schedule I controlled substance (heroin) for the purpose of resale.
Sheriff's department officials wish to remind the public that they welcome all tips regarding illegal drug activity and other crimes. You may report such activity by calling the department at 931-762-3626, or the Criminal Investigation Division directly at 931-762-1608. Also, tips may be reported confidentially via private message by visiting the department's Facebook page, Lawrence County, Tennessee Sheriff's Department.