AUCTIONS
APPLIANCE REPAIR
Kelly Appliance & Vacuum 931-244-7200
AIR CONDITIONING
D.E. Hill & Son 762-9584
ASSISTED LIVING
AUTO REPAIR


J & G Tire Center 931-762-0078
BANKS
CONSIGNMENT
On Second Thought Consignment 931-244-7244
CINEMAS
CLINICS
Clothing
On Second Thought Consignment 931-244-7244
COMPUTER REPAIR
DAY SPA
Envy Tanning & Spa 931-762-3689

ELECTRICAL & PLUMBING
Rick's Electrical & Plumbing 931-242-5325
ELECTRONICS
Lynn Electronics 762-0401
EXCAVATING / GRADING
Newton Backhoe Service 931-242-0305
FLORIST

Lawrenceburg Florist 762-3722
McKelvey's Flowers 762-4511

FUNERAL HOMES

Pettus-Turnbo Funeral Home 762-3291
FURNITURE
Green's Furniture
Swap & Shop Center
GIFTS
GLASS REPAIR
Lawrenceburg Glass 766-1004
HARDWARE
HEALTH PRODUCTS
Salt Glow 931-279-4780
HOBBY
INSURANCE
Aarons Insurance 931-629-8065
Baker Agency 762-4550
Wall-Modrall Insurance 762-6528
JEWELRY
Dixon's Fine Jewelry 762-9979
LAWN CARE


Dustin's Lawn Care 242-4414
MEDICAL
NATURAL FOODSNature's Nuggests 762-2895
OUTDOOR
Randy's Cycle & ATV 762-2450
PARTY / SUPPLIES
PAWN
Mo's Pawn Shop 762-2529
PHARMACY
Holland's Pharmacy 931-762-2220
POOLS/ SUPPLIES
By Pass Pools 931-762-7904

REAL ESTATE
RENTAL
RESTAURANTS
SPORTING GOODS
Fox Sporting Goods 931-766-0313


TANNING
Envy Tanning & Spa
931-762-3689
TIRES
Groucho's Tires 931-762-1707
TRAVEL
Thursday, March 16, 2017
Drug-Free Workplace Training held at old Crockett Theatre for local Employers
Press release

The City of Lawrenceburg, Chamber of Commerce and the Lawrence County Substance Abuse Coalition teamed up to provide a free Drug-Free Workplace Training for local employers on March 14, 15 and 16.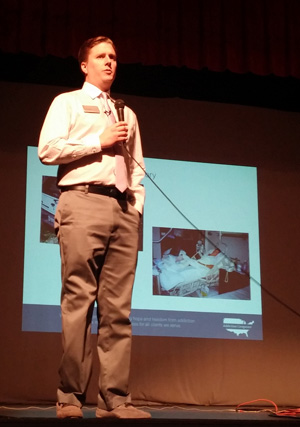 Over 500 people attended and many companies took advantage of this valuable training. John Mabry from Addiction Campuses brought a powerful story,sharing his road to recovery along with the training. Supervisors and employees took home information on signs and symptoms of abuse and literature was provided on how to seek help if someone is struggling with addiction.
The overarching message was, "It's okay to not be okay, recognize you need help and freedom starts with the first steps." John shared statistics, and dispelled myths on having a Drug-Free Workplace program.

If you know of someone who needs treatment, encourage them to get help. The first step has to be their own, but encouragement is important. We want to provide support and community around those that need to heal and reduce the stigma of addiction.
If someone needs help with addiction, resources for recovery include Addiction Campuses at 1-888-816-8415, Tennessee Redline at 1-800-889-9789 or Project Lifeline 931-308-7689 both funded by the Tennessee Department of Mental Health and Substance Abuse Services.
There are many local support groups including Celebrate Recovery, AA, NA, Al-Anon. For local contacts and meeting times, visit the website (http://lawrencecountytn.gov) and click on Residents/Lawrence County Substance Abuse Coalition.