AUCTIONS
APPLIANCE REPAIR
Kelly Appliance & Vacuum 931-244-7200
AIR CONDITIONING
D.E. Hill & Son 762-9584
ASSISTED LIVING
AUTO REPAIR


J & G Tire Center 931-762-0078
BANKS
CONSIGNMENT
On Second Thought Consignment 931-244-7244
CINEMAS
CLINICS
Clothing
On Second Thought Consignment 931-244-7244
COMPUTER REPAIR
DAY SPA
Envy Tanning & Spa 931-762-3689

ELECTRICAL & PLUMBING
Rick's Electrical & Plumbing 931-242-5325
ELECTRONICS
Lynn Electronics 762-0401
EXCAVATING / GRADING
Newton Backhoe Service 931-242-0305
FLORIST

Lawrenceburg Florist 762-3722
McKelvey's Flowers 762-4511

FUNERAL HOMES

Pettus-Turnbo Funeral Home 762-3291
FURNITURE
Green's Furniture
Swap & Shop Center
GIFTS
GLASS REPAIR
Lawrenceburg Glass 766-1004
HARDWARE
HEALTH PRODUCTS
Salt Glow 931-279-4780
HOBBY
Adventure Off Road 852-5445
INSURANCE
Aarons Insurance 931-629-8065
Baker Agency 762-4550
Wall-Modrall Insurance 762-6528
JEWELRY
Dixon's Fine Jewelry 762-9979
LAWN CARE


Dustin's Lawn Care 242-4414
MEDICAL
NATURAL FOODSNature's Nuggests 762-2895
OUTDOOR
Randy's Cycle & ATV 762-2450
PARTY / SUPPLIES
PAWN
Mo's Pawn Shop 762-2529
PHARMACY
Holland's Pharmacy 931-762-2220
POOLS/ SUPPLIES
By Pass Pools 931-762-7904

REAL ESTATE
RENTAL
RESTAURANTS
SPORTING GOODS
Fox Sporting Goods 931-766-0313
STORAGE
Loretto Storage 931-853-7867

TANNING
Envy Tanning & Spa
931-762-3689
TIRES
Groucho's Tires 931-762-1707
TRAVEL
Monday, March 12, 2018
Church communities come together for Leoma boy
A Leoma boy's school and church communities are coming together to raise funds to help him and his family. 12-year-old Braden Rice, who suffers from a form of muscular dystrophy, is in need of a special bed.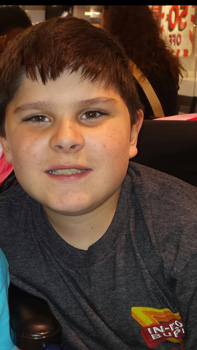 Braden's mom has to turn him six to eight times a night, which causes a physical strain on them and disturbs their sleep. The bed, which costs nearly $40,000, would better position Braden during sleep, slowly turn him throughout the night, improve his circulation and help alleviate the risks of pressure points and other health problems.

Insurance will not cover the cost and so Gum Springs Baptist Church and Leoma Elementary have planned fundraisers to collect money to purchase the special bed.
If you would like to help, an account has been set up at First Farmers and Merchants Bank; you can donate online at Youcaring.com or Gofundme.com;
Leoma Elementary will hold a fish fry and silent auction, Friday April 13th from 4-7; Gum Springs Baptist will host a Saturday, May 5th fundraiser on the Lawrenceburg Square.
To help the church with that fundraiser, contact Pastor Chad Clanton at 629-0492.