AUCTIONS
APPLIANCE REPAIR
Kelly Appliance & Vacuum 931-244-7200
AIR CONDITIONING
D.E. Hill & Son 762-9584
ASSISTED LIVING
AUTO REPAIR


J & G Tire Center 931-762-0078
BANKS
CONSIGNMENT
On Second Thought Consignment 931-244-7244
CINEMAS
CLINICS
Clothing
On Second Thought Consignment 931-244-7244
COMPUTER REPAIR
DAY SPA
Envy Tanning & Spa 931-762-3689

ELECTRICAL & PLUMBING
Rick's Electrical & Plumbing 931-242-5325
ELECTRONICS
Lynn Electronics 762-0401
EXCAVATING / GRADING
Newton Backhoe Service 931-242-0305
FLORIST

Lawrenceburg Florist 762-3722
McKelvey's Flowers 762-4511

FUNERAL HOMES

Pettus-Turnbo Funeral Home 762-3291
FURNITURE
Green's Furniture
Swap & Shop Center
GIFTS
GLASS REPAIR
Lawrenceburg Glass 766-1004
HARDWARE
HEALTH PRODUCTS
Salt Glow 931-279-4780
HOBBY
INSURANCE
Aarons Insurance 931-629-8065
Baker Agency 762-4550
Wall-Modrall Insurance 762-6528
JEWELRY
Dixon's Fine Jewelry 762-9979
LAWN CARE


Dustin's Lawn Care 242-4414
MEDICAL
NATURAL FOODSNature's Nuggests 762-2895
OUTDOOR
Randy's Cycle & ATV 762-2450
PARTY / SUPPLIES
PAWN
Mo's Pawn Shop 762-2529
PHARMACY
Holland's Pharmacy 931-762-2220
POOLS/ SUPPLIES
By Pass Pools 931-762-7904

REAL ESTATE
RENTAL
RESTAURANTS
SPORTING GOODS
Fox Sporting Goods 931-766-0313


TANNING
Envy Tanning & Spa
931-762-3689
TIRES
Groucho's Tires 931-762-1707
TRAVEL
Thursday, March 9, 2017
Homeless man arrested in murder of Loretto native
Press release
Midtown Hills Precinct detectives tonight are charging Christopher Drew McLawhorn with criminal homicide and especially aggravated burglary in connection with February 28th murder of Nashville nurse Tiffany Ferguson, 22, inside her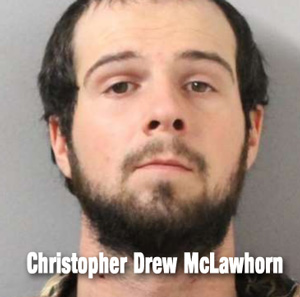 Wedgewood Park apartment. McLawhorn, 24, who was developed as a person of interest in this investigation, was located by Central Precinct officers at 3rd Avenue North and Broadway at 4:25 a.m. Sunday.
He had two bottles of alcohol, was carrying a small quantity of marijuana, and was arrested for misdemeanor drug possession. He denied any knowledge of the Ferguson murder during an interview on Sunday. McLawhorn remained in jail on the marijuana charge through tonight.
He will be booked on the criminal homicide and burglary warrants by the Sheriff's Office within the next several hours. The investigation lead by Detective Anthony Chandler and his colleagues at Midtown Hills continued non-stop through today.
Based on the evidence developed thus far and witness statements, detectives believe that McLawhorn is the man who stabbed Ferguson multiple times while burglarizing her apartment. McLawhorn is considered to be homeless, although he did stay with a friend from time to time on 14th Avenue North.
McLawhorn has a limited prior arrest history in Nashville. He was arrested for public intoxication on September 25, 2015; misdemeanor theft on October 5, 2015; and failure to be booked on the misdemeanor theft charge on December 27, 2016. The police and fire departments responded to a 911 call placed at 5:41 a.m. by Ferguson's roommate, who awakened to her screams. When the roommate exited her bedroom, she saw the front door to the apartment open. Sh