Tennessee Governor Bill Lee, and U.S. Rep. Mark Green attended ceremony on Sunday before National Guard Soldiers boarded their planes for an 11 month deployment.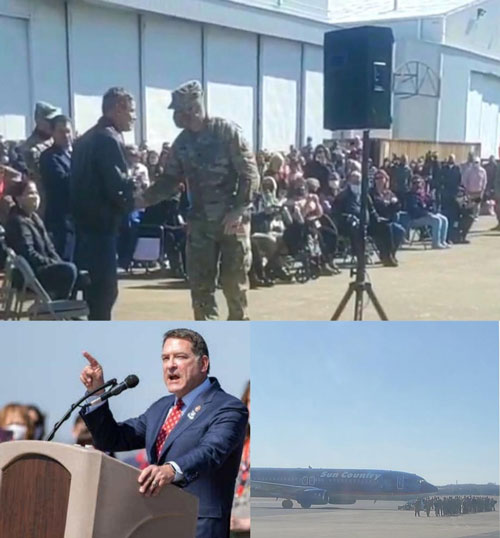 On Sunday at the Smyrna/Rutherford County Airport a ceremony was held for the over 350 soldiers with the 1st Battalion, 1-181st Field Artillery Regiment with units from Pulaski, Lawrenceburg, Fayetteville, and Dayton.
The Tennessee National Guard Soldiers gathered with their families to say their goodbyes before boarding a plane for mobilization training in Ft. Bliss, Texas where they will then depart for a 11 month tour of duty overseas.
During the ceremony as U.S. Rep. Mark Green spoke to the soldiers, and their families as he recalled a conversation where the 1-181st Field Artillery Regiment was described by Gen. Daniel R. Hokanson, a four-star General who currently serves as the 29th chief of the National Guard Bureau, as "one of the finest field artillery units in the United Stated Army."
"I speak for the seven million people in this state who are grateful for you, who are grateful for you families, who are grateful for your preparation, who are grateful for your sacrifice. It has been one of the most challenging years all of us have faced in out lives. But every step of the way, the men and women of the Tennessee National Guard prevailed to test and vaccinate, protect, defend and preserve people's first amended rights, people's property, the people of Tennessee's future is what you were protecting and we are incredibly grateful."
"Our way of life would not be if it were not for each and every one of you," Governor Bill Lee stated.
As the ceremony concluded National Guard Maj. Gen. Jeffrey H. Holmes told the soldiers, "This is your moment. You are ready, you are prepared, you are professionals. You will serve your nation proudly. I am honored to stand before you amongst heroes."