AUCTIONS
APPLIANCE REPAIR
Kelly Appliance & Vacuum 931-244-7200
AIR CONDITIONING
D.E. Hill & Son 762-9584
ASSISTED LIVING
AUTO REPAIR


J & G Tire Center 931-762-0078
BANKS
CONSIGNMENT
On Second Thought Consignment 931-244-7244
CINEMAS
CLINICS
Clothing
On Second Thought Consignment 931-244-7244
COMPUTER REPAIR
DAY SPA
Envy Tanning & Spa 931-762-3689

ELECTRICAL & PLUMBING
Rick's Electrical & Plumbing 931-242-5325
ELECTRONICS
Lynn Electronics 762-0401
EXCAVATING / GRADING
Newton Backhoe Service 931-242-0305
FLORIST

Lawrenceburg Florist 762-3722
McKelvey's Flowers 762-4511

FUNERAL HOMES

Pettus-Turnbo Funeral Home 762-3291
FURNITURE
Green's Furniture
Swap & Shop Center
GIFTS
GLASS REPAIR
Lawrenceburg Glass 766-1004
HARDWARE
HEALTH PRODUCTS
Salt Glow 931-279-4780
HOBBY
INSURANCE
Aarons Insurance 931-629-8065
Baker Agency 762-4550
Wall-Modrall Insurance 762-6528
JEWELRY
Dixon's Fine Jewelry 762-9979
LAWN CARE


Dustin's Lawn Care 242-4414
MEDICAL
NATURAL FOODSNature's Nuggests 762-2895
OUTDOOR
Randy's Cycle & ATV 762-2450
PARTY / SUPPLIES
PAWN
Mo's Pawn Shop 762-2529
PHARMACY
POOLS/ SUPPLIES
By Pass Pools 931-762-7904

REAL ESTATE
RENTAL
RESTAURANTS
SPORTING GOODS
Fox Sporting Goods 931-766-0313


TANNING
Envy Tanning & Spa
931-762-3689
TIRES
Groucho's Tires 931-762-1707
TRAVEL
Tuesday, February 28, 2017
FFA members attend Flowers on the Hill
In conjunction with National FFA Week, members of the Loretto and Lawrence County High School Chapters of Future Farmers of America were able to attend the annual Flowers on the Hill event in Nashville where they met with state legislators.
Madison Franks (Loretto FFA President)- Flowers on the Hill is a great way to thank the ones that have contributed so much time to the Agricultural community. Attending Flowers on the Hill is also a great way to meet with the state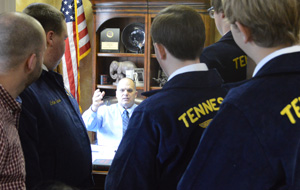 representatives and senators to gain more knowledge about the bills that are underway in the state capital and also fresh up on current events. I have attended Flowers on the Hill for the past 4 years, and the knowledge I have gained through our state representative, Barry Doss, and our state senator, Joey Hensley, is irreplaceable. Flowers on the Hill has allowed me to reach out of my comfort zone and has allowed me to create memories that will last a lifetime!
Ethan McClure (Loretto FFA Secretary)- When we went to Nashville to Flowers on the Hill FFA event, we did a variety of things. First, we went to state representative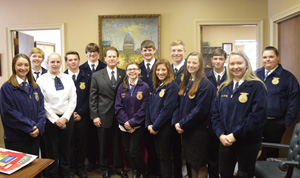 Barry Doss' office and he told us about how Lawrence County was growing and improving while decreasing taxes. Next, we went to Senator Joey Hensley's office, and he talked to us about our education and how important it was. Then we were given a vase of flowers and delivered them to a representative.
Colton Newton (Loretto FFA Historian) - I learned that Flowers on the Hill is an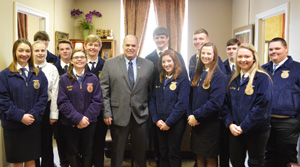 event that thanks all the state legislators in their support Agriculture in the state building. This is where many FFA Chapters gather together and meet their Senators and House of Representatives and ask The questions that they want answered about their county that they don't like and want things or ways changed.
Alex Davis (Loretto FFA Advisor)- Flowers on the Hill FFA Event is a fantastic event for the students to meet with their State Legislature. They are able to obtain a variety of answers on upcoming legislation. The State Legislator discussed the how a bill becomes law, and all the processes that lead up to it being signed by the Governor. Overall, I think that this is a valuable lesson on state government that benefits all students who attend.