AUCTIONS
APPLIANCE REPAIR
Kelly Appliance & Vacuum 931-244-7200
AIR CONDITIONING
D.E. Hill & Son 762-9584
ASSISTED LIVING
AUTO REPAIR


J & G Tire Center 931-762-0078
BANKS
CONSIGNMENT
On Second Thought Consignment 931-244-7244
CINEMAS
CLINICS
Clothing
On Second Thought Consignment 931-244-7244
COMPUTER REPAIR
DAY SPA
Envy Tanning & Spa 931-762-3689

ELECTRICAL & PLUMBING
Rick's Electrical & Plumbing 931-242-5325
ELECTRONICS
Lynn Electronics 762-0401
ESCAVATING / GRADING
Newton Backhoe Service 931-242-0305
FLORIST

Lawrenceburg Florist 762-3722
McKelvey's Flowers 762-4511

FUNERAL HOMES

Pettus-Turnbo Funeral Home 762-3291
FURNITURE
Green's Furniture
Swap & Shop Center
GIFTS
GLASS REPAIR
Lawrenceburg Glass 766-1004
HARDWARE


True Value Hardware 762-7516
HEALTH PRODUCTS
Salt Glow 931-279-4780
HOBBY
INSURANCE
Aarons Insurance 931-629-8065
Baker Agency 762-4550
Markus Insurance 762-9401
Wall-Modrall Insurance 762-6528
JEWELRY
Dixon's Fine Jewelry 762-9979
LAWN CARE


Dustin's Lawn Care 242-4414
MEDICAL
NATURAL FOODSNature's Nuggests 762-2895
OUTDOOR
Randy's Cycle & ATV 762-2450
PARTY / SUPPLIES
PAWN
Mo's Pawn Shop 762-2529
PHARMACY
POOLS/ SUPPLIES
By Pass Pools 931-762-7904

REAL ESTATE
RENTAL
RESTAURANTS
SPORTING GOODS
Fox Sporting Goods 931-766-0313


TANNING
Envy Tanning & Spa
931-762-3689
TIRES
Groucho's Tires 931-762-1707
TRAVEL
Thursday, February 16, 2017
County: Seniors, the Disabled Should Check Tax Relief Eligibility
Chris D. Jackson, Chairman Pro-Tempore Lawrence County Commission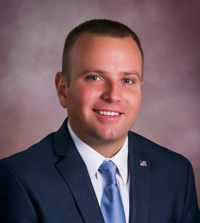 In a day and time where seniors continue to see the cost of their health care, prescription drugs and the general cost of living continue to rise, they need all the help they can get. That is why it is vital for local seniors, as well as those who are disabled, to know about two tax relief programs here in Lawrence County that may help ease their financial burden. The programs are the property tax relief program and the solid waste fee relief program.
In order to qualify for property tax relief, an individual must meet a number of income and other eligibility requirements. To qualify as elderly, the applicant must be 65 or older during the year in which you apply. So, if you are applying for the relief of your 2016 taxes, you must have turned 65 before the end of 2016. To qualify as disabled, an applicant must have been rated totally and permanently disabled by the Social Security Administration before December 31, 2016. The combined 2015 income of the applicant, the applicant's spouse, and all other owners of the property cannot exceed $29,180 for either category.
Note that the income of the applicant's spouse counts, regardless of whether the spouse is a co-owner on the property.That total includes but it not limited to Social Security benefits (after Medicare is deducted), Supplemental Security Income (SSI), Retirement or Pension benefits, Veterans' Administration benefits, Workers' Compensation, Salaries or Wages, Interest or Dividends.
If you feel that you may qualify for the property tax relief program, we strongly urge you to call or visit Trustee Kiley Weathers' office. He and his experienced staff will be more than happy to assist you in determining your eligibility for these programs and enrolling you if you do indeed qualify. If you end up being eligible for the property tax relief program, the county will automatically enroll you in the solid waste fee relief program. If you are not a property owner but are interested in the solid waste fee relief, you should contact the county's Accounts and Budget Office so they can help determine your eligibility.
It is important to note, that besides senior citizens and disabled homeowners, disabled veterans and widows of disabled veterans may also be eligible for the tax relief program so long as they meet certain requirements. Their eligibility can also be determined by the Trustee's office. Applications for tax relief must be filed with the Trustee's office no later than April 5, 2017, so be sure to check your eligibility as soon as possible.
Lawrence County Trustee's Office: 931-766-4181