AUCTIONS
APPLIANCE REPAIR
Kelly Appliance & Vacuum 931-244-7200
AIR CONDITIONING
D.E. Hill & Son 762-9584
ASSISTED LIVING
AUTO REPAIR


J & G Tire Center 931-762-0078
BANKS
CONSIGNMENT
On Second Thought Consignment 931-244-7244
CINEMAS
CLINICS
Clothing
On Second Thought Consignment 931-244-7244
COMPUTER REPAIR
DAY SPA
Envy Tanning & Spa 931-762-3689

ELECTRICAL & PLUMBING
Rick's Electrical & Plumbing 931-242-5325
ELECTRONICS
Lynn Electronics 762-0401
ESCAVATING / GRADING
Newton Backhoe Service 931-242-0305
FLORIST

Lawrenceburg Florist 762-3722
McKelvey's Flowers 762-4511

FUNERAL HOMES

Pettus-Turnbo Funeral Home 762-3291
FURNITURE
Green's Furniture
Swap & Shop Center
GIFTS
GLASS REPAIR
Lawrenceburg Glass 766-1004
HARDWARE


True Value Hardware 762-7516
HEALTH PRODUCTS
Salt Glow 931-279-4780
HOBBY
INSURANCE
Aarons Insurance 931-629-8065
Baker Agency 762-4550
Markus Insurance 762-9401
Wall-Modrall Insurance 762-6528
JEWELRY
Dixon's Fine Jewelry 762-9979
LAWN CARE


Dustin's Lawn Care 242-4414
MEDICAL
NATURAL FOODSNature's Nuggests 762-2895
OUTDOOR
Randy's Cycle & ATV 762-2450
PARTY / SUPPLIES
PAWN
Mo's Pawn Shop 762-2529
PHARMACY
POOLS/ SUPPLIES
By Pass Pools 931-762-7904

REAL ESTATE
RENTAL
RESTAURANTS
SPORTING GOODS
Fox Sporting Goods 931-766-0313


TANNING
Envy Tanning & Spa
931-762-3689
TIRES
Groucho's Tires 931-762-1707
TRAVEL
Monday, February 13, 2017
Five members of LHS Band selected to Tennessee Wind Band Conference
Congratulations to Adam Waldrop, Jackie Box, Andrew Oliphant, Adam Kellum and Jake Neidert, five members of the Loretto High School Band on being selected to the Tennessee Wind Band Conference hosted by the School of Music at Middle Tennessee State University on February 9 - 11.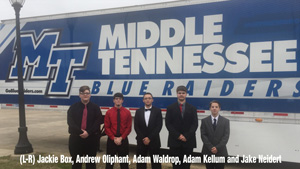 It was a wonderful weekend with many rehearsals concluding with amazing concerts and hearing performance by the Tennessee Valley Winds, Middle Tennessee State University Wind Ensemble and fabulous soloist jazz trombonist Harry Watters and cornet-soloist Harmen Vanhoorne from Belgium.
The band members worked with guest conductors Dr. Jack Stamp – who is currently Professor of Music at the University of Wisconsin-River Falls, Dr. Linda R. Moorhouse from the University of Illinois, Dr. Jeffrey C. Mathews - from Northwestern State University and Dr. Christopher Dye professor of Instrumental Music Education at Middle Tennessee State University.
The students also worked with Director of Bands at Middle Tennessee State University Dr. Reed Thomas and Associate Director Craig Cornish.