AUCTIONS
APPLIANCE REPAIR
Kelly Appliance & Vacuum 931-244-7200
AIR CONDITIONING
D.E. Hill & Son 762-9584
ASSISTED LIVING
AUTO REPAIR


J & G Tire Center 931-762-0078
BANKS
CONSIGNMENT
On Second Thought Consignment 931-244-7244
CINEMAS
CLINICS
Clothing
On Second Thought Consignment 931-244-7244
COMPUTER REPAIR
DAY SPA
Envy Tanning & Spa 931-762-3689

ELECTRICAL & PLUMBING
Rick's Electrical & Plumbing 931-242-5325
ELECTRONICS
Lynn Electronics 762-0401
EXCAVATING / GRADING
Newton Backhoe Service 931-242-0305
FLORIST

Lawrenceburg Florist 762-3722
McKelvey's Flowers 762-4511

FUNERAL HOMES

Pettus-Turnbo Funeral Home 762-3291
FURNITURE
Green's Furniture
Swap & Shop Center
GIFTS
GLASS REPAIR
Lawrenceburg Glass 766-1004
HARDWARE
HEALTH PRODUCTS
Salt Glow 931-279-4780
HOBBY
Adventure Off Road 852-5445
INSURANCE
Aarons Insurance 931-629-8065
Baker Agency 762-4550
Wall-Modrall Insurance 762-6528
JEWELRY
Dixon's Fine Jewelry 762-9979
LAWN CARE


Dustin's Lawn Care 242-4414
MEDICAL
NATURAL FOODSNature's Nuggests 762-2895
OUTDOOR
Randy's Cycle & ATV 762-2450
PARTY / SUPPLIES
PAWN
Mo's Pawn Shop 762-2529
PHARMACY
Holland's Pharmacy 931-762-2220
POOLS/ SUPPLIES
By Pass Pools 931-762-7904

REAL ESTATE
RENTAL
RESTAURANTS
SPORTING GOODS
Fox Sporting Goods 931-766-0313
STORAGE
Loretto Storage 931-853-7867

TANNING
Envy Tanning & Spa
931-762-3689
TIRES
Groucho's Tires 931-762-1707
TRAVEL
Thursday, February 8, 2018
Alabama man captured in Lawrence County following 2016 murder found guilty

Lawrenceburg Now

An Alabama man fleeing from law enforcement officers in March of 2016 in the wake of a murder, who was subsequently captured in Lawrence County, was found guilty of the crime on Wednesday.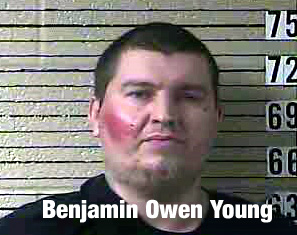 Florence resident Benjamin Owen Young, age 30, stood trial in Colbert County, Alabama in connection to the March 4, 2016 death of nineteen year old Ki-Jana Freeman of Tuscumbia.
A second victim, seventeen year old Tyler Blythe, sustained injuries in the shooting, as well. Young allegedly opened fire into a car in which the young women were sitting, at a Tuscumbia apartment complex.

Following the shooting, Young fled from authorities and was pursued from Muscle Shoals, across the state line, and into Iron City. The pursuit ended when Young crashed his vehicle in Loretto.
He was incarcerated locally on charges of aggravated assault on a police officer, reckless endangerment and evading arrest. He was also charged with theft after authorities learned that the vehicle he was driving had been reported as stolen out of Florence.

After listening to testimony, jurors found Young guilty on charges of capital murder, first-degree assault, and shooting into an occupied vehicle. At sentencing, Young faces either life in prison without the possibility of parole, or the death penalty. Prosecutors have expressed their intent to seek the death penalty.