AUCTIONS
APPLIANCE REPAIR
Kelly Appliance & Vacuum 931-244-7200
AIR CONDITIONING
D.E. Hill & Son 762-9584
ASSISTED LIVING
AUTO REPAIR


J & G Tire Center 931-762-0078
BANKS
CONSIGNMENT
On Second Thought Consignment 931-244-7244
CINEMAS
CLINICS
Clothing
On Second Thought Consignment 931-244-7244
COMPUTER REPAIR
DAY SPA
Envy Tanning & Spa 931-762-3689

ELECTRICAL & PLUMBING
Rick's Electrical & Plumbing 931-242-5325
ELECTRONICS
Lynn Electronics 762-0401
EXCAVATING / GRADING
Newton Backhoe Service 931-242-0305
FLORIST

Lawrenceburg Florist 762-3722
McKelvey's Flowers 762-4511

FUNERAL HOMES

Pettus-Turnbo Funeral Home 762-3291
FURNITURE
Green's Furniture
Swap & Shop Center
GIFTS
GLASS REPAIR
Lawrenceburg Glass 766-1004
HARDWARE


True Value Hardware 762-7516
HEALTH PRODUCTS
Salt Glow 931-279-4780
HOBBY
INSURANCE
Aarons Insurance 931-629-8065
Baker Agency 762-4550
Markus Insurance 762-9401
Wall-Modrall Insurance 762-6528
JEWELRY
Dixon's Fine Jewelry 762-9979
LAWN CARE


Dustin's Lawn Care 242-4414
MEDICAL
NATURAL FOODSNature's Nuggests 762-2895
OUTDOOR
Randy's Cycle & ATV 762-2450
PARTY / SUPPLIES
PAWN
Mo's Pawn Shop 762-2529
PHARMACY
POOLS/ SUPPLIES
By Pass Pools 931-762-7904

REAL ESTATE
RENTAL
RESTAURANTS
SPORTING GOODS
Fox Sporting Goods 931-766-0313


TANNING
Envy Tanning & Spa
931-762-3689
TIRES
Groucho's Tires 931-762-1707
TRAVEL
Wednesday, February 8, 2017
IMPROVE offers big dividends for Lawrence County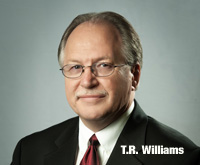 A few weeks ago I gathered with county leaders from across the state to show support for Governor Haslam's IMPROVE proposal (Improving Manufacturing, Public Roads and Opportunities for a Vibrant Economy), which goes before the Legislature this session.
It was important for us to support the Governor's plan, and it's equally important that you understand why we do.
IMPROVE would give Tennessee cities and counties 40% more state funds for transportation projects. The Lawrence County Highway Department would receive an additional $831,000 each year, the equivalent of a 14-cent property tax increase. Our cities would divide another $200,000 annually, based on their populations.
Two county bridge projects would also be financed: the Pleasant Valley Road bridge over Dry Weakley Creek, at a cost of $184,000; and the Busby Road bridge over Shoal Creek at $1,687,000. Hundreds of other much-needed projects that counties can't afford would be covered under this plan.
Increased funding would be provided in the fairest way possible: by those of us who use our roads, based on how much we use them. The state's gas tax was set at 21.4 cents per gallon in 1989; IMPROVE would add 7 cents per gallon for gasoline, and 12 cents for diesel.
The extra tax for diesel is mindful of the fact that trailer trucks cause more wear and tear on our roads, and much of that traffic is simply passing through. An amazing 65 percent of goods received at ports in California are trucked across our state on I-40 to eastern markets. Fifty percent of all Tennessee diesel purchases are made by out-of-state transporters.
Visitors would also help pay for the plan through a 3 percent tax on rental car fees. Electric car owners would pay $100 annual road user fees, and fees would rise for cars that use alternative fuels. Annual vehicle registration would go up across all categories, $5 for average passenger vehicles.
IMPROVE fills a desperate need for additional transportation funding. The backlog of unfunded road projects already approved by the General Assembly totals $10.5 billion. Without additional funding, it would take 50 years to complete those 962 projects.
How can a state that's in great fiscal shape arrive at such a place? Tennessee's Highway Fund operates independently of the General Fund and is not allowed to borrow money. Road projects are "pay as you go," so if the money is not there, the project is not done.
State fuel taxes are the fund's primary support. Because the cost of everything related to road work has gone up since 1989, the 21.4 cent rate is now worth approximately 11 cents. Over the past 28 years Tennessee's population has grown by 1.9 million, and projections say we can expect at least another million in the next 8 years. You don't have to travel far to see that many roads can't handle the amount of traffic on them now.
Besides better roads, the plan includes tax cuts to offset the burden on residents who spend most of their income on necessities. IMPROVE would cut the state's portion of sales tax on groceries by .5 percent to 4.5, adding up to a full percentage point that tax has decreased during Haslam's administration.
The proposal calls for changes in excise and franchise taxes that will bring more jobs to Tennessee, and accelerates the reduction of the Hall Tax on dividend income. With these changes, Haslam will have ushered in nine times more tax cuts than any other governor in Tennessee history.
Haslam's IMPROVE proposal is now in House and Senate committees, where it will likely undergo some changes. State Representative Barry Doss is Chairman of the House Transportation Committee, so plays a crucial role in the process. Doss hopes to eliminate a provision that calls for the fuel tax to be indexed to inflation, an automatic increase that he says would amount to a perpetual tax hike.
I hope you will all stand with me to support Haslam's plan, with that change. The best thing about IMPROVE for rural counties like Lawrence is that we will receive much more in state funding than we will pay collectively in additional tax. Let's invest in better roads, and reap the dividends.