AUCTIONS
APPLIANCE REPAIR
Kelly Appliance & Vacuum 931-244-7200
AIR CONDITIONING
D.E. Hill & Son 762-9584
ASSISTED LIVING
AUTO REPAIR


J & G Tire Center 931-762-0078
BANKS
CONSIGNMENT
On Second Thought Consignment 931-244-7244
CINEMAS
CLINICS
Clothing
On Second Thought Consignment 931-244-7244
COMPUTER REPAIR
DAY SPA
Envy Tanning & Spa 931-762-3689

ELECTRICAL & PLUMBING
Rick's Electrical & Plumbing 931-242-5325
ELECTRONICS
Lynn Electronics 762-0401
EXCAVATING / GRADING
Newton Backhoe Service 931-242-0305
FLORIST

Lawrenceburg Florist 762-3722
McKelvey's Flowers 762-4511

FUNERAL HOMES

Pettus-Turnbo Funeral Home 762-3291
FURNITURE
Green's Furniture
Swap & Shop Center
GIFTS
GLASS REPAIR
Lawrenceburg Glass 766-1004
HARDWARE
HEALTH PRODUCTS
Salt Glow 931-279-4780
HOBBY
Adventure Off Road 852-5445
INSURANCE
Aarons Insurance 931-629-8065
Baker Agency 762-4550
Wall-Modrall Insurance 762-6528
JEWELRY
Dixon's Fine Jewelry 762-9979
LAWN CARE


Dustin's Lawn Care 242-4414
MEDICAL
NATURAL FOODSNature's Nuggests 762-2895
OUTDOOR
Randy's Cycle & ATV 762-2450
PARTY / SUPPLIES
PAWN
Mo's Pawn Shop 762-2529
PHARMACY
Holland's Pharmacy 931-762-2220
POOLS/ SUPPLIES
By Pass Pools 931-762-7904

REAL ESTATE
RENTAL
RESTAURANTS
SPORTING GOODS
Fox Sporting Goods 931-766-0313
STORAGE
Loretto Storage 931-853-7867

TANNING
Envy Tanning & Spa
931-762-3689
TIRES
Groucho's Tires 931-762-1707
TRAVEL
Sunday, January 21, 2018
Saturday fire is prime example of importance of "Close the Door" campaign

Press release from the Lawrenceburg Fire Department

At approximately 11:30 a.m. on January 20, 2018, the Lawrenceburg Fire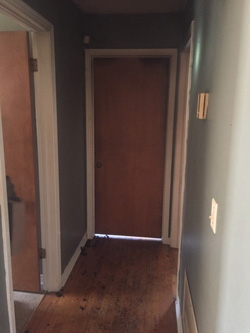 Department was dispatched to a residential structure fire on Shirley Drive. The first arriving units found heavy fire visible from a bedroom window on the west side of the house.

Firefighters entered the residence through the front door, and were able to quickly locate and extinguish the fire keeping the fire from spreading into other areas of the home. Firefighters credit the actions of the homeowner for preventing the fire's spread prior to fire departments arrival.

The resident, who was awakened to the smell of smoke in her home, was able to evacuate her child and herself out of the home. Her quick thinking to shut the door to the room that was on fire helped contain the fire until firefighters arrived on scene.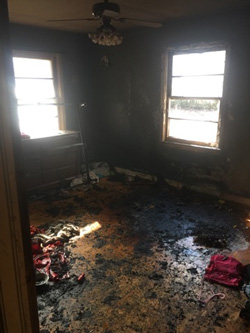 There were smoke detectors inside the house, however they were not working at the time of the fire. The fire department's investigation division is currently handling the circumstances surrounding the fire's cause.

The pictures below are from the fire today and illustrate the effectiveness of the "Close the Door" campaign. By simply closing the door, the growth of the fire inside the house was contained to the room the fire started.
If this had not been done the flames would have quickly spread throughout the house before firefighters arrived.

The Lawrenceburg Fire Department has partnered with the State Fire Marshall's Office, and have smoke detectors available for anyone inside the city limits that is in need.
Often times the smell of smoke doesn't awake residents, and the end result can be deadly. To get more information or request smoke detectors call the Lawrenceburg Fire Department at 931-762-9046.