AUCTIONS
APPLIANCE REPAIR
Kelly Appliance & Vacuum 931-244-7200
AIR CONDITIONING
D.E. Hill & Son 762-9584
ASSISTED LIVING
AUTO REPAIR


J & G Tire Center 931-762-0078
BANKS
CONSIGNMENT
On Second Thought Consignment 931-244-7244
CINEMAS
CLINICS
Clothing
On Second Thought Consignment 931-244-7244
COMPUTER REPAIR
DAY SPA
Envy Tanning & Spa 931-762-3689

ELECTRICAL & PLUMBING
Rick's Electrical & Plumbing 931-242-5325
ELECTRONICS
Lynn Electronics 762-0401
EXCAVATING / GRADING
Newton Backhoe Service 931-242-0305
FLORIST

Lawrenceburg Florist 762-3722
McKelvey's Flowers 762-4511

FUNERAL HOMES

Pettus-Turnbo Funeral Home 762-3291
FURNITURE
Green's Furniture
Swap & Shop Center
GIFTS
GLASS REPAIR
Lawrenceburg Glass 766-1004
HARDWARE
HEALTH PRODUCTS
Salt Glow 931-279-4780
HOBBY
Adventure Off Road 852-5445
INSURANCE
Aarons Insurance 931-629-8065
Baker Agency 762-4550
Wall-Modrall Insurance 762-6528
JEWELRY
Dixon's Fine Jewelry 762-9979
LAWN CARE


Dustin's Lawn Care 242-4414
MEDICAL
NATURAL FOODSNature's Nuggests 762-2895
OUTDOOR
Randy's Cycle & ATV 762-2450
PARTY / SUPPLIES
PAWN
Mo's Pawn Shop 762-2529
PHARMACY
Holland's Pharmacy 931-762-2220
POOLS/ SUPPLIES
By Pass Pools 931-762-7904

REAL ESTATE
RENTAL
RESTAURANTS
SPORTING GOODS
Fox Sporting Goods 931-766-0313
STORAGE
Loretto Storage 931-853-7867

TANNING
Envy Tanning & Spa
931-762-3689
TIRES
Groucho's Tires 931-762-1707
TRAVEL
Sunday, January 21, 2018
Middle Tennessee District Fair receives Premier Fair Award
Press release
The Middle Tennessee District Fair has received the Champion of Champions Premier Fair Award for 2017. The award was presented on Saturday evening (1/20/2018) to Fair Manager Todd Tingle and MTDF Fairest of the Fair Grace Coleman by Tennessee Department of Agriculture Commissioner Jai Templeton during the Tennessee Fair Association Convention in Nashville.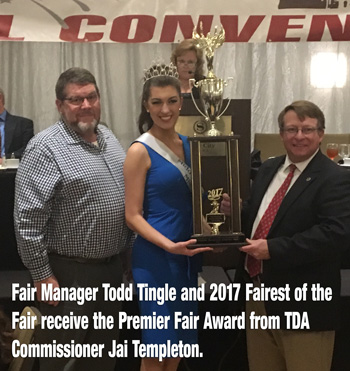 To qualify for this award, the fair must have received the 2016 Champion of Champions Award and the 2015 Champion Fair Award in its class.
The local fair is judged in the highly competitive Class AA Division which consists of fairs from Tennessee counties with populations similar to Lawrence.
This is the fifth year in a row that the Middle Tennessee District Fair has been recognized by the fair association and the State of Tennessee.
Fair Manager Todd Tingle thanked the hundreds of volunteers and exhibitors who participate in the fair, and most of all the residents of Lawrence and surrounding counties who support the fair year after year.
Tingle stated that plans for the 2018 Middle Tennessee District Fair are currently being set and that he expects this year's event to feature several new events. The fair will run from September 24 through September 30, 2018 at Lawrenceburg Rotary Park.
The Middle Tennessee District Fair has been sponsored by the Lawrenceburg Rotary Club since 1950.