A message from Commissioner Chris D Jackson: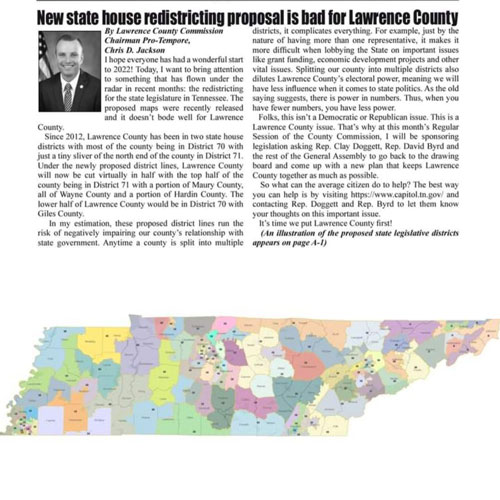 Folks, the Tennessee General Assembly Redistricting Committee (this doesn't include Rep. Doggett) recently released their newly proposed maps for State House and it appears Lawrence County is a loser in the process, unfortunately.
As I wrote in the Lawrence County Advocate, under the newly proposed district lines, Lawrence County will now be cut virtually in half with the top half of the county being in District 71 with a portion of Maury County, all of Wayne County and a portion of Hardin County. The lower half of Lawrence County would be in District 70 with Giles County and part of Lincoln County.
Anytime a county is chopped up as much as this, it complicates our relationship with State government. For example, just by the nature of having more than one representative, it makes it more difficult when lobbying the State on important issues like grant funding, economic development projects and other vital issues.
Splitting our county into also dilutes Lawrence County's electoral power, meaning we will have less influence when it comes to state politics. As the old saying suggests, there is power in numbers. Thus, when you have fewer numbers, you have less power.
This isn't a Democratic or Republican issue. This is a Lawrence County issue. That's why at this month's Regular Session of the County Commission, I will be sponsoring legislation asking Rep. Clay Doggett, Rep. David Byrd and the rest of the General Assembly to go back to the drawing board and come up with a new plan that keeps Lawrence County together as much as possible.