Tennessee House Speaker on FBI raid: Those subject to search warrants on 'administrative leave'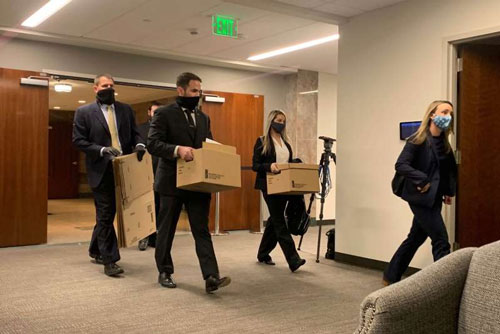 Federal agents descended on multiple Tennessee Republican House members' homes and state offices on Friday, collecting evidence while executing search warrants.
At least 10 agents from the FBI entered the Cordell Hull legislative office building just before 8 a.m., fanning out to multiple offices carrying empty boxes with them.
The U.S. Attorney's Office for the Middle District of Tennessee confirmed the FBI visited the homes of former House Speaker Glen Casada, R-Franklin; Rep. Robin Smith, R-Hixson; Rep. Todd Warner, R-Chapel Hill; and former Casada aide Cade Cothren.
According to multiple people with knowledge of the investigation, agents searched their homes.
The FBI also searched the office of Rep. Kent Calfee, R-Kingston, though House Speaker Cameron Sexton said he understood that Calfee "is not part of the investigation." Calfee's legislative assistant, however, has been placed on administrative leave in connection with the inquiry.