The Lawrenceburg Elks Lodge will be honoring Lawrence County's first responders with a lunch on Wednesday March 20th from 11:00a.m. until 2:00 p.m. All law enforcement, fire department (both city and volunteer), ambulance, and all other first responders are invited to a BBQ lunch. The lodge is located at 615 Crews Street.
---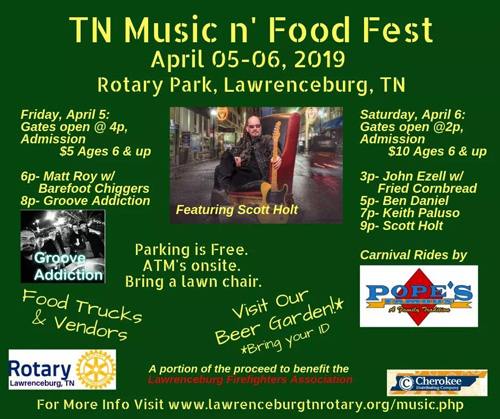 ---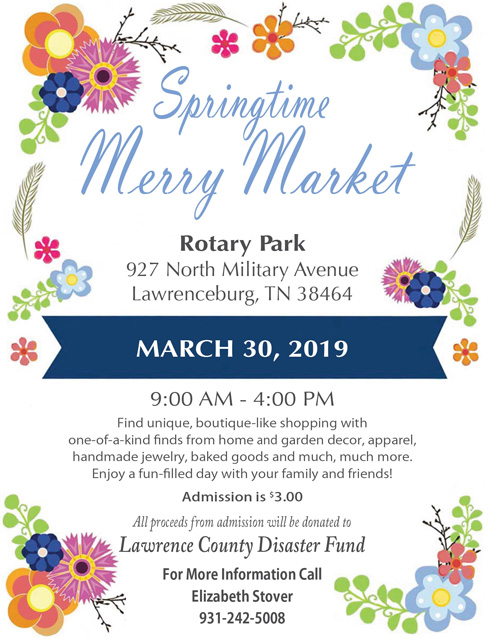 The Lawrence County Board of Education will conduct a planning session on March 12, 2019 at 5:30 p.m. at the Central Office, 700 Mahr. Ave., Lawrenceburg.
---
Online Pre-K and Kindergarten registration for the Lawrence County School System will be available Monday, March 25 through April 18 on the Lawrence County Schools webpage found at lcss.us. Computers will be available at each of the elementary schools on April 4 during Parent/Teacher Conferences for those needing access or assistance with the online process.

All Pre-K and Kindergarten students entering schools are required by law to meet certain immunization and medical requirements. The following information must be obtained and submitted to your child's school in order for your child to attend any Pre-K or Kindergarten program in the Lawrence County School System.

Certified Birth Certificate
Immunization Records on Permanent Tennessee Certificate of Immunization TCA (49-1765-1769) available from health department or family physician.
Physical Examination (No earlier than August 2018)

Pre-K students must be 4 years of age by August 15, 2019. LCSS Pre-K programs are income-based and preference will be given to economically disadvantaged students first. Those registering a Pre-K student will receive a letter notifying them of when and where to take the required paperwork.

Kindergarten students must be 5 years of age by August 15, 2019. A Sneak-a-Peek will be held at each of the elementary schools on Monday, May 6 at 6:00 P.M. for Kindergarten student orientation and to submit the required paperwork.

Your child will not be allowed to begin school without required immunizations, health physical, and birth certificate. If you have questions or need assistance in obtaining the required information, you may contact your school or the Coordinator of School Health, April Abercrombie at 762-5251 ext. 119.


Shannon Watson
| | |
| --- | --- |
| Name | Teresa Newton |
| E-mail | tnewton@lawcotn.org |
| Message | The Friends of the Lawrence County Public Library will meet on Friday, March 8th. The meeting, which will be held at the library, begins at 9:30 a.m. |
---
The Lawrenceburg Animal Shelter is at capacity

If you are looking for a best friend please consider adopting from the animal shelter. There are many friendly, healthy and beautiful puppies and dogs at the shelter who are seeking their forever homes.

Directions: Take West Gaines, turn left onto Skyline Drive (at Parkview Motel) and when the road forks the driveway to the dog park and shelter are on the right.
The shelter is open Monday through Friday from 10-2 and Saturdays from 9-12. To contact the shelter call Rene Segraves 242-3511
---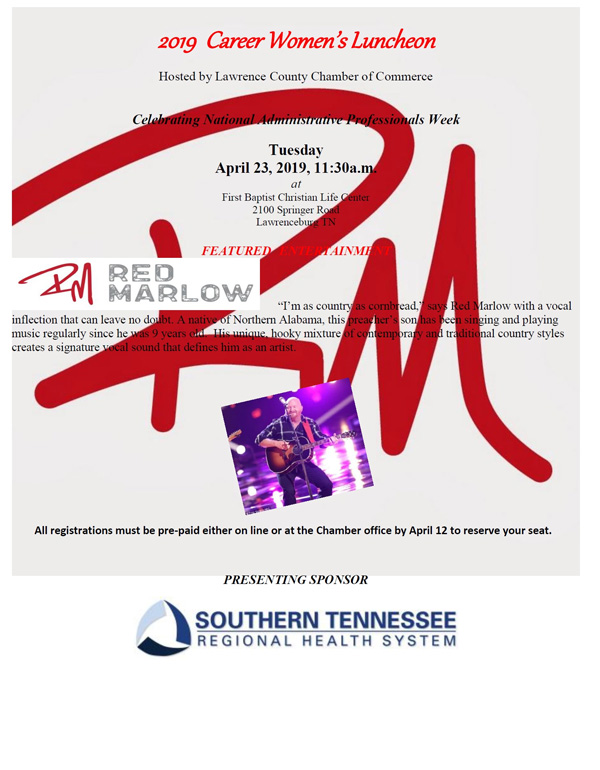 Miranda Vansandt
E-mail
mvansan@wgu.edu
Message
Southside church of Christ in St. Joseph, TN will be having a FREE pancake breakfast from 7-10am. Everyone welcome!
The Lawrence County BPW invites you to attend the BPW Regional meeting on March 2nd beginning at 10am. The meeting will be held at the Ethridge Civic Center located at 111 Park Street, Ethridge TN 38456. This event will be a great networking opportunity for all women and a chance to enjoy a few hours of fun. Men are also welcome. Our guest speaker promises to be both funny and inspirational.
Guest speaker, Jessica Yokley is a mother to Preston and Gavin, wife, political figure, and non-profit founder. Jessica spent 15 years directing a no-kill animal rescue, but began focusing her efforts in politics and charitable foundations benefiting women and children after the death of her daughter, Cora. She and her family also created the "A Cora Christmas" foundation which benefits women and children in the community. After being elected as Chair of the Lawrence County Democrat Party in 2017 as the third female chair, she became the first female candidate for 70th District State Representative. Currently, Jessica is focusing on aiding the homeless in her community as a founding member of BWG Homeless Outreach, an organization founded and run by women. She is also a member of the Lawrence County Business Professional Women, Lawrence County Substance Abuse Coalition, Ethridge United Methodist Church, and the Community Baby Shower Committee.
Registration begins at the door at 9:30 a.m with the meeting set to begin at 10 or you may pre-register by emailing
lawrencecobpw@gmail.com
. Cost, including lunch, is $10.
---
Loretto City offices will be closed Monday, February 18 in observance of the Presidents' Day Holiday. Trash pickup will be rescheduled for Wednesday, February 20.

Jesse E. Turner
Mayor
City of Loretto
---

The Lawrence County Board of Education will conduct a Safety Committee Meeting on February 21, 2019 at 4:30 p.m. then will meet in Regular Session at 5:30 p.m. Both meetings will be at the Central Office, 700 Mahr Ave., Lawrenceburg.
---
South Lawrence girls basketball won the class A section 3 tournament in Lincoln County on January 31st. This win will advance them to the first ever state tournament in middle school basketball on Feb. 8th and 9th in Murfreesboro.

---
---
The City of Loretto Board of Mayor and Aldermen will meet in regular session Tuesday, February 5 at 5 pm to consider the following agenda item and any other business that may come before the Board:

Approval of a resolution to apply for a Community Development Block Grant (CDBG) for a water tank in the Liberty Grove Community as a joint project with Lawrence County.
---
---
.