---

Vanta Moore
E-mail
vantamoore@gmail.com
Message
The Swamp John's dinner due to be held at LCHS on October 22 has been cancelled.
---
Due to expected poor weather conditions, the football game at Dickson County scheduled for Friday, October 19 has been RESCHEDULED for THURSDAY, October 18. Kick-off is at 7:00 P.M.
---
The Lawrence County Board of Education will meet in Regular Session on Thursday, October 25, 2018 at 5:30 pm at the Central Office, 700 Mahr Ave., Lawrenceburg.
---
Merry Gabel
E-mail
stjoemerry@gmail.com
Message
Music Day at St. Joseph Senior Center (119 S. Main St.) on Thursday, Oct. 18, at 11:00 am. Lunch provided by Avalon Hospice of Lawrenceburg. Players welcome. Contact 931-845-4203.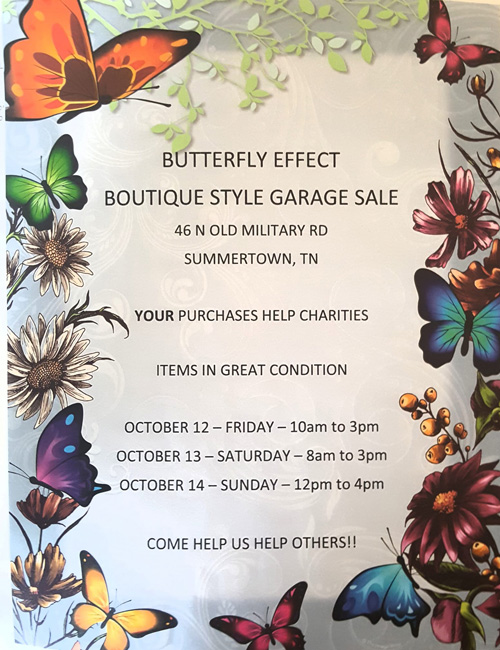 ---
Name
Terry Mackin
E-mail
coppermackin@lorettotel.net
Message
TURKEY SHOOT
FALL RIVER COMMUNITY CLUB
SAT. OCT. 20
10 TILL 3
$3.00 PER SHOT
LONG SHOT COUNTRY HAM $5.00
LOTS OF GOOD FOOD
DOOR PRIZES
LOTS OF FUN
Name
Lane Rohling
E-mail
lanerohling@yahoo.com
Message
Sacred Heart Fall Bazaar
Saturday November 10th
8:00 am - 2:00 pm
220 Berger Street
Lawrenceburg
| | |
| --- | --- |
| Name | Darrin McKamey |
| E-mail | darrin.mckamey@nhccare.com |
| Message | NHC Healthcare Lawrenceburg has scheduled the next free Certified Nursing Assistant class to begin October 15, 2018. Applications for the class are now being accepted in the business office. The classes consist of 75 hours class/clinical training. |
---
---
Name
Vanta Moore
E-mail
vantamoore@gmail.com
Message

What: Swamp John's Supper
When: Mon. Oct. 22, 4-7 p.m.
Where:LCHS cafeteria
Cost: $12 per plate
Drink and dessert included.
To pre- order contact:
Kayla Moore 931-347-6657

This fundraiser is to help cover expenses for LCHS students who will be attending a language immersion trip in Costa Rica in March 2019.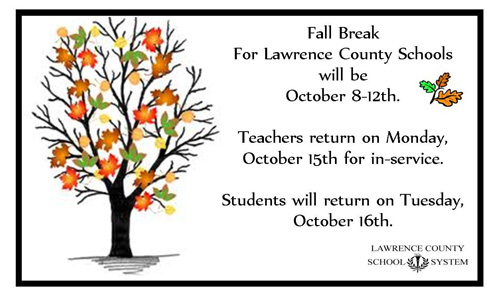 ---
Request for Proposals:
The City of Lawrenceburg, TN is actively pursuing the professional services needed for the restoration and repair of the David Crockett statue, located in the Lawrenceburg Tennessee. The statue is believed to be a bronze/bronze alloy statue, approx. 6 feet tall and attached to concrete pedestal which is an additional 6 feet tall. Repairs will include, but not necessarily be limited to repairing holes, repairing structural deficiencies, cleaning/polishing and providing methods to reasonably prevent future damages in the statue. The work shall follow the Secretary of the Interior's Standards for Rehabilitation codified in 36 CFR 67 as interpreted by the State of Tennessee. RFP packets may be obtained at the Lawrenceburg Municipal Complex; 25 Public Square. Responses are due 10/26/18 by 4:00PM
---

---
EMPLOYMENT OPPORTUNITY
The Lawrenceburg Police Department is seeking qualified applications for at least 4 Police Patrol Officers. Applications and job qualifications may be picked up at the Tennessee Career Center located at 702 Mahr Ave. Lawrenceburg, TN from 8:00 a.m. to 4:30 p.m., Monday through Friday; and will be accepted until 3:00 PM on October 5, 2018. Salary scale is availableupon request. Applicants should include other job-related information with the Job Application. All applications must be returned to the Career Center no later than 3:00 p.m. on October 5, 2018. Selection for interviews will follow.The City of Lawrenceburg is an EEO/AA/Title VI/Title IX/Section 504/ADA/ADEA entity in the provision of its employment opportunities and services. All qualified applicants will receive equal consideration for employment without regard to race, color, national origin, religion, sex, pregnancy, marital status, age, physical or mental disability, or covered veteran status.
---
---
FOR IMMEDIATE RELEASE

Hazardous household waste collection is Saturday, September 29
Lawrence County residents will have a convenient opportunity to safely dispose of household hazardous waste at the end of this month.
Lawrence County's Solid Waste Facility is holding a Household Hazardous Waste Collection event Saturday, September 29, from 8:00 a.m. to Noon. The facility is located at 2126 Baler Drive, off Helton Drive in Lawrenceburg.
The event is sponsored by the Tennessee Department of Environment and Conservation, and is free and open to all households. The average home in Tennessee produces 20 pounds of household hazardous waste each year, including cleaning fluids, pesticides, antifreeze, fertilizers and pool chemicals.
Hazardous Household Waste is any unwanted or spent household product that can catch fire easily, eat away at or irritate living tissue, react violently with water or other chemicals, or is poisonous to humans and animals.
Specific items also include oil and fuel additives; grease and rust solvents; carburetor and fuel injector cleaners; starter fluids; body putty; gasoline; paint strippers and thinners; adhesives; driveway sealant; roofing tar; wallpaper remover; wood preservatives; photo processing chemicals; aerosols; mercury thermostats and thermometers; fluorescent tubes; and compact fluorescent bulbs.
Items not accepted at Household Hazardous Waste Collection events are ammunition, explosives, radioactive waste (including smoke detectors), or medical waste (except needles and sharps in puncture-proof containers). Items from a school, commercial business or agri-business will be accepted for a fee by appointment only. To request a price quote and schedule an appointment, please call 615-643-3180.
On the day of the event, load the unwanted materials into your trunk or the back of your truck. For safety, don't mix materials, keep them in their original containers, double package any leaking containers, and place any breakable containers in a box, cushioned with newspaper.
For more information, call 931-766-0900.

---
.