AUCTIONS
APPLIANCE REPAIR
Kelly Appliance & Vacuum 931-244-7200
AIR CONDITIONING
D.E. Hill & Son 762-9584
ASSISTED LIVING
AUTO REPAIR

Chapman Tire 931-829-2155
J & G Tire Center 931-762-0078
BANKS
CINEMAS
CLINICS
COMPUTER REPAIR
DAY SPA
Envy Tanning & Spa 931-762-3689

ELECTRICAL & PLUMBING
Rick's Electrical & Plumbing 931-242-5325
ELECTRONICS
Lynn Electronics 762-0401
FLORIST

Lawrenceburg Florist 762-3722
McKelvey's Flowers 762-4511

FUNERAL HOMES

Pettus-Turnbo Funeral Home 762-3291
FURNITURE
Green's Furniture
Swap & Shop Center
GIFTS
GLASS REPAIR
Lawrenceburg Glass 766-1004
HARDWARE


True Value Hardware 762-7516
HEALTH PRODUCTS
Salt Glow 931-279-4780
HOBBY
INSURANCE
Aarons Insurance 931-629-8065
Baker Agency 762-4550
Markus Insurance 762-9401
Wall-Modrall Insurance 762-6528
JEWELRY
Dixon's Fine Jewelry 762-9979
LAWN CARE


Dustin's Lawn Care 242-4414
MEDICAL
NATURAL FOODSNature's Nuggests 762-2895
OUTDOOR
Randy's Cycle & ATV 762-2450
PARTY / SUPPLIES

The Mad Hatter's Party Wonderland 931-244-7222
PAWN
Mo's Pawn Shop 762-2529
POOLS/ SUPPLIES
By Pass Pools 931-762-7904

REAL ESTATE
RENTAL
RESTAURANTS
SPORTING GOODS
Fox Sporting Goods 931-766-0313


TANNING
Envy Tanning & Spa
931-762-3689
TIRES
Groucho's Tires 931-762-1707
TRAVEL
Wednesday, July 6, 2016
Lawrence County government has a new budget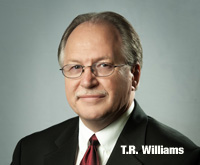 For the first time in 20 years, Lawrence County government has a new budget in place at the start of the new fiscal year. County Commissioners met in special session Tuesday, June 28,at 5 p.m., and with 14 present, unanimously approved a tax levy and operating budget for 2016-17. The last time we met our deadline of June 30 was 1996.
The meeting itself was unremarkable. Resolutions were stated and votes were cast with no discussion or questions, and that is testament to the hard work done in the weeks before the meeting took place.
The Commission's Budget Committee devoted full days to the process. I chair the committee and other members are Brandon Brown, Scott Franks, Jim Modlin and Wayne Yocom. Department heads (who started their own budget work early) presented reports about their needs for the coming year. We considered decisions made by other committees - Nonprofit and Tourism, to name two – about spending in those areas. Budget Director Teresa Purcell lent her expertise and many, many hours to put everything together for us.
Similar work was going on at the School System, involving the Board, Director Johnny McDaniel and their Budget Director Jessica Eledge. The county budget is not complete without the school system portion, so the fact that the Board approved their budget on June 27 made our action the following night possible.
It's not hard to understand why the budget has been delayed in the past. Lots of decisions are called for, and many are not easy. Some departments presented strong arguments for pay increases and additional employees. We understood their requests, but said no to all of them and even permanently eliminated a few empty positions.
We did agree to make the school system's $300,000 geothermal payment for the second year in a row, and to give another $300,000 for capital projects. The school board will spend these funds any way they see fit, but two projects they plan are remodeling lobbies at Loretto and Lawrence County High Schools to improve student safety.
Last year's difficult decision to raise property taxes put us on a path that covers our spending, is restoring depleted fund balances and saves money for future school and highway projects. $388,000 was set aside last year in each of those accounts, and will be again in 2016-17.
The tax rate approved this year is in fact lower than last year's, down from $3.06 to $2.9589. This was done because of a state-required property reappraisal that probably showed your property has increased in value over the last six years. State law also requires that the county readjust its tax rate after reappraisals are complete so the same amount of revenue will be produced.
I expect that with this "head start" – actually a punctual start – we can keep things on track to approve county budgets on time in the future. Why is that important for taxpayers?
*Without a new budget, county government continues to operate on the spending plan established for the previous year. Continuing budgets only cover basic operating expenses. Other purchases have to be put off, even if the Highway Department needs a new piece of equipment, or an office copier breaks down. This year, necessary purchases can be made in a timely manner, which means the county operates more smoothly and effectively for you.
*Until the tax rate is set, tax bills cannot be sent out and revenues don't come in. You may have heard the term "tax anticipation notes" in the past, which means we borrow money from other funds within the county to cover general operating expenses.
*Because the budget was approved on time, property tax bills can be sent out in a timely manner and with your payments, county government can begin operating on the new year's revenues. It's a much better way to do business.
*State statute requires that we pass our budget by June 30. Obviously, we have received permission in the past to extend that deadline, sometimes by several months. I believe it's a good idea to show state officials we're willing to do the work to get things done right.
The bottom line is that since we have our budget out of the way, we can get on with other county business. We can be more proactive, responsive, and focused on our present and future needs.
I'd like to thank everyone who was part of this process. I truly appreciate the hard work and cooperation that made everything come together at just the right time.