AUCTIONS
APPLIANCE REPAIR
Kelly Appliance & Vacuum 931-244-7200
AIR CONDITIONING
D.E. Hill & Son 762-9584
ASSISTED LIVING
AUTO REPAIR

Chapman Tire 931-829-2155
J & G Tire Center 931-762-0078
BANKS
CINEMAS
CLINICS
COMPUTER REPAIR
DAY SPA
Envy Tanning & Spa 931-762-3689

ELECTRICAL & PLUMBING
Rick's Electrical & Plumbing 931-242-5325
ELECTRONICS
Lynn Electronics 762-0401
FLORIST

Lawrenceburg Florist 762-3722
McKelvey's Flowers 762-4511

FUNERAL HOMES

Pettus-Turnbo Funeral Home 762-3291
FURNITURE
Green's Furniture
Swap & Shop Center
GIFTS
GLASS REPAIR
Lawrenceburg Glass 766-1004
HARDWARE


True Value Hardware 762-7516
HEALTH PRODUCTS
Salt Glow 931-279-4780
HOBBY
INSURANCE
Aarons Insurance 931-629-8065
Baker Agency 762-4550
Markus Insurance 762-9401
Wall-Modrall Insurance 762-6528
JEWELRY
Dixon's Fine Jewelry 762-9979
LAWN CARE


Dustin's Lawn Care 242-4414
MEDICAL
NATURAL FOODSNature's Nuggests 762-2895
OUTDOOR
Randy's Cycle & ATV 762-2450
PARTY / SUPPLIES

The Mad Hatter's Party Wonderland 931-244-7222
PAWN
Mo's Pawn Shop 762-2529
POOLS/ SUPPLIES
By Pass Pools 931-762-7904

REAL ESTATE
RENTAL
RESTAURANTS
SPORTING GOODS
Fox Sporting Goods 931-766-0313


TANNING
Envy Tanning & Spa
931-762-3689
TIRES
Groucho's Tires 931-762-1707
TRAVEL
Sunday, June 26, 2016
LCHS Shooting Team at State Championship Trap Shoot
The LCHS Shooting Team competed in the Tennessee Scholastic Clay Target Program State Championship Trap Shoot at the Nashville Gun Club on June 24th & 25th.
2016 LCHS Seniors L to R: Coach Shawn Walters, Brown Boyd, Tanner Clark, Connor Walters, Logan Cowheard, Rhett Yates, Grant Counce, Evan Johns, Head Coach Greg Holt
The Junior Varsity team competed with the handicap of only 4 squad members vs. other 5 member teams but still managed to place 25th out of 50 other squads hitting 316 out of 400 clays thrown.
Individual scores were Taylen Lance (89), Ali Beck (87), Tate Staggs (84) and Trevor Miller (56).
Ali Beck's 87 out of 100 was good enough to place her 5th in the state out of 42 in the ladies division.
The Varsity Team Score of 470 out of 500, which is taken from the top 5 scores from all varsity shooters, placed the team at 13 out of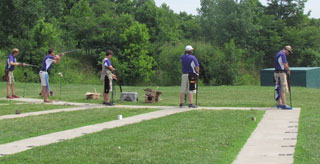 69 teams.
LCHS Varsity 1 Squad L to R: Sam Brown, Connor Walters, JC Mills, Logan Cowheard, Rhett Yates
The Varsity Squad 1 score of 469 placed them at 9th out of 83 Varsity squads competing.
Varsity 1 individual scores were Logan Cowheard (96), Connor Walters (95), Rhett Yates (94), Sam Brown (94), and JC Mills (90).
Other highlights were Brown Boyd (91) , Tanner Clark (90), and Grant Counce (90).
Individuals receiving 25 straight patches for hitting 25 consecutive clays without a miss were Sam Brown, Connor Walters, Logan Cowheard, JC Mills, and Tanner Clark.
The Seniors competing in their last competition as LCHS Wildcats honored were Logan Cowheard, Tanner Clark, Grant Counce, Connor Walters, Rhett Yates, Brown Boyd, and Evan Johns.
LCHS Shooting Team coaching staff consist of Head Coach Greg Holt and Assistant Coaches Shawn Walters and David Mills.