APPLIANCE REPAIR
Kelly Appliance & Vacuum 931-244-7200
AIR CONDITIONING
D.E. Hill & Son 762-9584
ASSISTED LIVING


Summit of Lawrenceburg 762-3524
AUTO REPAIR

Chapman Tire 931-829-2155
BANKS
CINEMAS
CLINICS


One Stop Medical 762-9797
Seven Springs Orthopaedics 244-7181

COMPUTER REPAIR
Nerd's Computer Repair
DAY SPA
ELECTRICAL & PLUMBING
Rick's Electrical & Plumbing 931-242-5325
ELECTRONICS
Lynn Electronics 762-0401
E CIGARETTES
FLORIST



Accents Floral & Gifts 244-6480
Lawrenceburg Florist 762-3722
McKelvey's Flowers 762-4511

FUNERAL HOMES

Pettus-Turnbo Funeral Home 762-3291
FURNITURE
Green's Furniture
Swap & Shop Center
GLASS REPAIR
Lawrenceburg Glass 766-1004
HARDWARE


True Value Hardware 762-7516
HOBBY
INSURANCE
Aarons Insurance 931-629-8065
Baker Agency 762-4550
Markus Insurance 762-9401
Wall-Modrall Insurance 762-6528
JEWELRY
Dixon's Fine Jewelry 762-9979
LAWN CARE


Dustin's Lawn Care 242-4414
MEDICAL
Seven Springs Orthopaedics 244-7181
NATURAL FOODSNature's Nuggests 762-2895
OUTDOOR
Randy's Cycle & ATV 762-2450
PARTY / SUPPLIES

The Mad Hatter's Party Wonderland 931-244-7222
PAWN
Mo's Pawn Shop 762-2529
POOLS/ SUPPLIES
Diamond Pools & Spas 762-7189
REAL ESTATE
RENTAL
RESTAURANTS


Sue Sue's Sandwich Shop 762-8879
SPORTING GOODS
Fox Sporting Goods 931-766-0313
TRAVEL
Wednesday, June 24, 2015
School Board, Commissioners Meet To Hash Out Budget Issues
T.R. Williams/ Lawrence County Executive
Lawrence Countians can be proud of the fact that their School Board and County Commission sat down last week to discuss how we can work together to solve our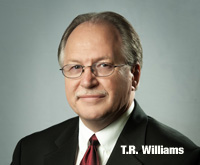 financial dilemma.
"Our" is the right word even though Lawrence County Government and the School System operate under separate spending plans. Our budgets are interdependent, so the problems and the solutions must be ours as well.
For too long, the school system and county government have kept up with inflation by using money from their fund balances. Because of that we now face the task of raising new revenue or cutting services, and neither decision will be popular or easy.
In spite of the situation that's still before us, I believe several good things came out of last Thursday's meeting. Among them was a better understanding of one revenue source: our county wheel tax.
A permanent $25 wheel tax was established in 1984 for the purpose of paying off school debt. A 30-year bond was issued at the same time for several school building projects.
Wheel tax revenue - about $900,000 a year - helped pay for that, but over the years, more school debt accumulated. After the 30-year bond was retired, wheel tax revenue was applied toward that newer debt. Even with that help, our debt service, like other county accounts, is stretched to its limit and significant debt will not be retired until 2020.
Each $25 of new wheel tax money (less than a dollar a week if you own two vehicles) would raise another $900,000 for schools. It seems to be a more fitting solution to increase the wheel tax rather than the property tax because almost everyone owns at least one vehicle and only about 38 percent of Lawrence Countians own property.
Still, a 2007 attempt to raise the wheel tax showed us why it's not the easy answer it seems to be. Commissioners approved an additional $25 wheel tax for much-needed school building improvements, but signatures were collected calling for a voter referendum, and the measure failed 3-1. Because of the disparity between property owners and vehicle owners, any proposed wheel tax increase would likely fail at the polls.
At last Thursday's meeting I told the Board that Commissioners are considering taking on some of their annual capital expenses to relieve most of their deficit spending. We have discussed, but not approved, covering about a million dollars a year that comes out of the Lawrence County School System budget: payments for Student Resource Officers, buses, debt payments, and building improvements.
These and other capital projects should be separated from true operating expenses, as I said last week. After the 2015-16 operational budget is approved, we will tackle capital projects.
In return, we asked the School Board to help us by returning a spending plan that was mindful of our difficult financial condition. They met later that evening to approve a final budget submission that included a raise for teachers, funded through the state's Basic Education Program, and a raise for support staff. Together, they total about $700,000.
The County Commission's Budget Committee along with the full Commission will be meeting to review the request next Monday, June 29, at 5 p.m. in the second floor conference room of the Administrative Center. As always, the public is invited to attend.
If you haven't watched the June 18 meeting between Commissioners and School Board members, I encourage you to do so. It is available at LawrenceburgNow.com, the County Commission's Facebook page and other locations on the internet.