AUCTIONS
APPLIANCE REPAIR
Kelly Appliance & Vacuum 931-244-7200
AIR CONDITIONING
D.E. Hill & Son 762-9584
ASSISTED LIVING


Summit of Lawrenceburg 762-3524
AUTO REPAIR

Chapman Tire 931-829-2155
J & G Tire Center 931-762-0078
BANKS
CINEMAS
CLINICS


One Stop Medical 762-9797
Seven Springs Orthopaedics 244-7181

COMPUTER REPAIR
Nerd's Computer Repair
DAY SPA
Envy Tanning & Spa 931-762-3689

ELECTRICAL & PLUMBING
Rick's Electrical & Plumbing 931-242-5325
ELECTRONICS
Lynn Electronics 762-0401
E CIGARETTES
FLORIST

Lawrenceburg Florist 762-3722
McKelvey's Flowers 762-4511

FUNERAL HOMES

Pettus-Turnbo Funeral Home 762-3291
FURNITURE
Green's Furniture
Swap & Shop Center
GIFTS
GLASS REPAIR
Lawrenceburg Glass 766-1004
HARDWARE


True Value Hardware 762-7516
HEALTH PRODUCTS
Salt Glow 931-279-4780
HOBBY
INSURANCE
Aarons Insurance 931-629-8065
Baker Agency 762-4550
Markus Insurance 762-9401
Wall-Modrall Insurance 762-6528
JEWELRY
Dixon's Fine Jewelry 762-9979
LAWN CARE


Dustin's Lawn Care 242-4414
MEDICAL
Seven Springs Orthopaedics 244-7181
NATURAL FOODSNature's Nuggests 762-2895
OUTDOOR
Randy's Cycle & ATV 762-2450
PARTY / SUPPLIES

The Mad Hatter's Party Wonderland 931-244-7222
PAWN
Mo's Pawn Shop 762-2529
POOLS/ SUPPLIES
By Pass Pools 931-762-7904
Diamond Pools & Spas 762-7189
REAL ESTATE
RENTAL
RESTAURANTS


Sue Sue's Sandwich Shop 762-8879
SPORTING GOODS
Fox Sporting Goods 931-766-0313


TANNING
Envy Tanning & Spa
931-762-3689
TIRES
Groucho's Tires 931-762-1707
TRAVEL
Monday, June 20, 2016
Books, books and more books
With a focus on early literacy, the Lawrence County School System was the recipient of $16,000 Federal Grant from the Innovative Approaches to Literacy (IAL) Program that provided the proprietary programs that included The Children's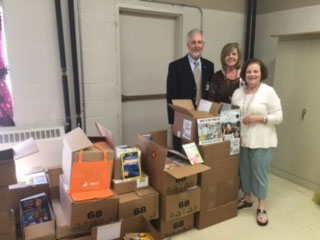 Reading Foundation READY! for Kindergarten and Summer READ UP!
READY! for Kindergarten provided classes for the parents of the district's preschoolers, including the awarding of individual participation kits of instructional materials valued at approximately $200 each.
Pictured among the books are Anne Ray, Grant Director; Dr. Vicki Maddox, Supervisor of Curriculum and Instruction and grant writer; and Johnny McDaniel, Director of Lawrence County Schools.
For convenience to parents, three sequenced school-year sessions were conducted in the fall, winter, and spring in the northern, middle, and southern areas of the county.
Each 90-minute class presented eight or nine age appropriate activities that parents were encouraged to enjoy at home with their child--activities that teach essential skills of literacy, numeracy and social emotional development appropriate to the age group of the child.
As a follow-up to READY!, Summer READ UP! provided for the disbursement of over 3,000 books that were placed in the hands of children at each elementary school.