AUCTIONS
APPLIANCE REPAIR
Kelly Appliance & Vacuum 931-244-7200
AIR CONDITIONING
D.E. Hill & Son 762-9584
ASSISTED LIVING


Summit of Lawrenceburg 762-3524
AUTO REPAIR

Chapman Tire 931-829-2155
J & G Tire Center 931-762-0078
BANKS
CINEMAS
CLINICS


One Stop Medical 762-9797
Seven Springs Orthopaedics 244-7181

COMPUTER REPAIR
Nerd's Computer Repair
DAY SPA
Envy Tanning & Spa 931-762-3689

ELECTRICAL & PLUMBING
Rick's Electrical & Plumbing 931-242-5325
ELECTRONICS
Lynn Electronics 762-0401
E CIGARETTES
FLORIST

Lawrenceburg Florist 762-3722
McKelvey's Flowers 762-4511

FUNERAL HOMES

Pettus-Turnbo Funeral Home 762-3291
FURNITURE
Green's Furniture
Swap & Shop Center
GIFTS
GLASS REPAIR
Lawrenceburg Glass 766-1004
HARDWARE


True Value Hardware 762-7516
HEALTH PRODUCTS
Salt Glow 931-279-4780
HOBBY
INSURANCE
Aarons Insurance 931-629-8065
Baker Agency 762-4550
Markus Insurance 762-9401
Wall-Modrall Insurance 762-6528
JEWELRY
Dixon's Fine Jewelry 762-9979
LAWN CARE


Dustin's Lawn Care 242-4414
MEDICAL
Seven Springs Orthopaedics 244-7181
NATURAL FOODSNature's Nuggests 762-2895
OUTDOOR
Randy's Cycle & ATV 762-2450
PARTY / SUPPLIES

The Mad Hatter's Party Wonderland 931-244-7222
PAWN
Mo's Pawn Shop 762-2529
POOLS/ SUPPLIES
By Pass Pools 931-762-7904
Diamond Pools & Spas 762-7189
REAL ESTATE
RENTAL
RESTAURANTS


Sue Sue's Sandwich Shop 762-8879
SPORTING GOODS
Fox Sporting Goods 931-766-0313


TANNING
Envy Tanning & Spa
931-762-3689
TIRES
Groucho's Tires 931-762-1707
TRAVEL
Wednesday, June 15, 2016
Teamwork works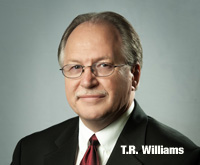 Every sports fan knows talented athletes can't win games if they don't work as a team.
The same is true in other endeavors. Good teamwork equals great results, and we are seeing proof of that in Lawrence County.
The team in this case includes our Chamber of Commerce Board and staff members, city and county governments, Tennessee's department of Economic & Community Development (TNECD), the Middle Tennessee Industrial Development Association and the Tennessee Valley Authority. Like any good team, we have built relationships with one another and share a common goal.
In the space of one month, two industries have announced plans to create a total of 97 jobs here. One is a brand-new company; the other is a longtime member of our industrial community that is expanding its operations here.
Novus Advanced Manufacturing is investing $1.9 million to occupy 50,000 square feet at the Tennessee Enterprise Center (the former Murray manufacturing facility). Employees will produce metal panels to be used as interior walls in hotel construction, expediting work that is booming across the nation. Company officials have completed their initial interview process, and hope to begin operations next month.
3D Systems (formerly Accucast) announced plans to construct a $2.9 million facility and hire 50 employees when it is complete next year. The company has already added 30 employees at its Highway 64 West location over the past year. 3D Systems is a state-of-the-art firm that produces advanced prototypes and 3D printing projects.
Chamber officials and I recently accepted a check for over $300,000 that will be used to improve roads inside Team Lawrence Commerce Park (TLCP). Funds will be used to build up the infrastructure of the streets so they can handle heavy industry traffic: trucks carrying equipment, supplies and finished products. Our chances of receiving this grant were enhanced by the fact that TLCP is already a state certified site, thanks to the foresight of local team members.
Every improvement we make to the property at TLCP makes it more attractive to prospects. Chamber president Ethan Hadley reports that the industrial park, its spec building and the former Jones Apparel Group facilities are already generating a lot of interest among potential employers, and he expects yet another job announcement to be made this year.
Developing potential properties for development is an ongoing process. Lawrence County has been chosen to participate in the TNECD Property Evaluation Program (PEP). Its purpose is to help our Chamber's economic development staff identify property with potential as future industrial sites.
TNECD has partnered with Austin Consulting, a 60-year-old firm that works with companies searching for new locations and with entities like Lawrence County that have properties to market. Austin Consulting is already familiar with our community's proactive stance on economic development as it is the same firm that worked with TNECD and the Lawrence County Chamber of Commerce to earn Tennessee Select site certification for TLCP in 2014.
Another group of professionals at Retail Strategies has been working on our behalf for some time. They have already identified a number of prospects for us, and have given our Chamber the means to attract new retail businesses and support existing ones. If you are a business owner, contact the Chamber to see how your business can benefit from Retail Strategies' expertise.
In case you missed it, one of the best signs of all this great teamwork arrived through our monthly unemployment report. The most recent showed that April's rate was 4.9%, the lowest that number has been since 1994. This, of course, does not include the newest job announcements from Novus or 3D Systems.
Finally, I want to remind you that all Lawrence Countians are part of the team. The impression we make, the support we give to those working in economic development, and the attitudes we display all make a big difference. Let's work together to continue our success.