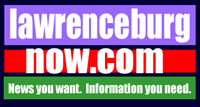 Sunday, May 7, 2009
Lawrenceburg Council To Meet Thursday Morning

Members of the Lawrenceburg Board of Mayor and Council are scheduled to meet in regular session Thursday morning to consider only a brief list of agenda items.

The sole item of business that appears on the agenda is Ordinance 1051, an ordinance to amend ordinance no. 1042 entitled Budget Appropriations of Revenue and Expenditures for the 2008-2009 Fiscal Year for the City of Lawrenceburg. The ordinance is scheduled for second and final reading.

Department Manager and Lawrenceburg Fire Chief Don Kelly will address the board. In addition, Barry Doss is slated to address the board regarding the Lawrence County Youth Football League.

The meeting, which is open to the public, will get underway at 8:30 a.m., inside the commission meeting room of the Lawrenceburg City Administration Building on West Gaines Street.
.