AUCTIONS
APPLIANCE REPAIR
Kelly Appliance & Vacuum 931-244-7200
AIR CONDITIONING
D.E. Hill & Son 762-9584
ASSISTED LIVING
AUTO REPAIR


J & G Tire Center 931-762-0078
BANKS
CONSIGNMENT
On Second Thought Consignment 931-244-7244
CINEMAS
CLINICS
Clothing
On Second Thought Consignment 931-244-7244
COMPUTER REPAIR
DAY SPA
Envy Tanning & Spa 931-762-3689

ELECTRICAL & PLUMBING
Rick's Electrical & Plumbing 931-242-5325
ELECTRONICS
Lynn Electronics 762-0401
EXCAVATING / GRADING
Newton Backhoe Service 931-242-0305
FLORIST

Lawrenceburg Florist 762-3722
McKelvey's Flowers 762-4511

FUNERAL HOMES

Pettus-Turnbo Funeral Home 762-3291
FURNITURE
Green's Furniture
Swap & Shop Center
GIFTS
GLASS REPAIR
Lawrenceburg Glass 766-1004
HARDWARE
HEALTH PRODUCTS
Salt Glow 931-279-4780
HOBBY
INSURANCE
Aarons Insurance 931-629-8065
Baker Agency 762-4550
Wall-Modrall Insurance 762-6528
JEWELRY
Dixon's Fine Jewelry 762-9979
LAWN CARE


Dustin's Lawn Care 242-4414
MEDICAL
NATURAL FOODSNature's Nuggests 762-2895
OUTDOOR
Randy's Cycle & ATV 762-2450
PARTY / SUPPLIES
PAWN
Mo's Pawn Shop 762-2529
PHARMACY
Holland's Pharmacy 931-762-2220
POOLS/ SUPPLIES
By Pass Pools 931-762-7904

REAL ESTATE
RENTAL
RESTAURANTS
SPORTING GOODS
Fox Sporting Goods 931-766-0313


TANNING
Envy Tanning & Spa
931-762-3689
TIRES
Groucho's Tires 931-762-1707
TRAVEL
Thursday, May 25, 2017
Big Year in Business for LCHS Virtual Enterprise
The Lawrence County High School Virtual Enterprise firm Alpha & Omega experienced immense success this school year! The students began the year building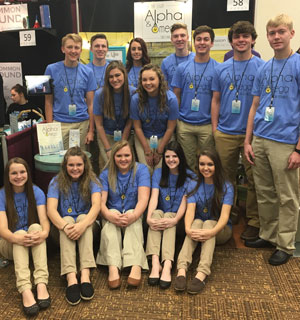 their portfolios and sitting through rigorous interviews to be selected for their positions.
Once placed in their respective positions they hit the ground running creating their logo and slogan for their Christian resource company. Other students established the product line, built the firm website, established payroll, and began paying company bills.
After the base line activities are complete the firm begins working on the extensive business plan. Five members of the firm are selected to represent the firm in the business plan competition. The students take the written words and create a presentation to a panel of judges. Meghan Baker, Jannia Bowden, Madison Mayer, Dawson James, and Jacob Snook represented the firm well at this year's competition!
During this same time the students were also working on creating trade fair materials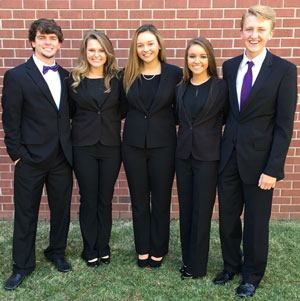 for the Midwest Region Trade Fair in Pigeon Forge, TN. The students were excited to be one of over 100 virtual firms being represented this year. Their hard work was greatly rewarded by earning 1st place in Business Card and 2nd place in Commercial competitions.
Alpha and Omega also received Top 10 recognition in Website design, Newsletter, Flyer and Brochure. They were the only firm to earn Top 10 recognition in all of those competitions. The students also built an impressive booth and had an innovative impact marketing bulletin board. Firms from all across the country were in attendance at this trade fair. The energy levels were high and the space was crowded as hundreds of students filled the Music Road Convention Center to buy and sell their products!
Another important trade fair that the students attended this year was the New York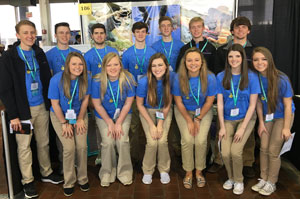 International Trade Fair in New York City. Alpha and Omega was one of 321 firms that exhibited at this year's trade fair. Nine countries were represented including, the United States, Austria, Brazil, Bermuda, Bulgaria,
Belgium, Germany, Indonesia, and Romania. With a new location at Pier 92 the students were excited to be a part of all the events and have the opportunity to buy, market, and sale with such a diverse group of people. The group's hard work was rewarded by earning Gold Level Recognition in Website Design.
The students did an exceptional job of implementing their marketing and sales skills in order to make this year's trade fair experiences a success. Their accomplishment was realized by assisting over 200 customers and generating over $300,000 in virtual sales.
In addition to trade fair competitions the firm competed in several of the Virtual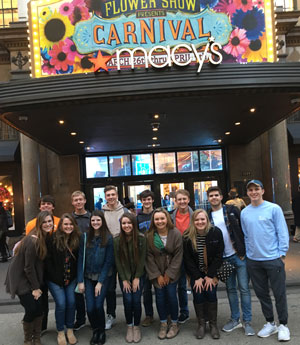 Enterprise International Online Competitions. The firm placed in the Top 10% in Website Design, Top 25% in Commercial, and Top 25% in Elevator Competition.
Alpha and Omega also was pleased to do various activities for the school system and community this year. They were extremely proud to be able to assist the Lawrenceburg Shelter by collecting various items through the "No Excuse for Domestic Abuse" campaign. They also assisted the Chamber of Commerce with painting a helipad for a site visit to the spec building in the Team Lawrence Commerce Park.
This year Virtual Enterprise was pleased to be asked to create the logo and two public service announcements for the "Find the Good and Praise It" campaign for the Lawrence County School System. In addition, the Lawrence County School System Aware program asked the Virtual Enterprise classes across the county to develop Public Service Announcements and billboards. LCHS students did an outstanding job compiling the main video and developing a billboard for the Aware initiative.
LCHS Virtual Enterprise and we would like to take this opportunity to thank the community for their never ending support and making programs like this possible. Whether it is participating in a fundraiser, sponsorship, or offering mentoring, we truly appreciate you and your willingness to offer assistance to aid in the success of this program.
We would like to say a special thank you to Johnny McDaniel, Director of Schools, Shannon Watson, CTE Director/Communications Director, Ryan Egly, Chamber of Commerce, April Abercrombie, Director of LCSS Aware, and Chad Jones, LCHS Teacher for all of your help, support and opportunities given throughout this school year.
Students participating in Virtual Enterprise for this year were: Meghan Baker, Ben Barnett, Jannia Bowden, Chainey Brewer, Anniston Butler, Mattie Egly, Hunter Hagan, Andrew Heath, Dawson James, Garrett Martin, Madison Mayer, Rob McGuire, Bri Snider, Jacob Snook, Annsley Watson, Will White, and Virtual Enterprise Facilitator Hope McDow.