AUCTIONS
APPLIANCE REPAIR
Kelly Appliance & Vacuum 931-244-7200
AIR CONDITIONING
D.E. Hill & Son 762-9584
ASSISTED LIVING
AUTO REPAIR


J & G Tire Center 931-762-0078
BANKS
CONSIGNMENT
On Second Thought Consignment 931-244-7244
CINEMAS
CLINICS
Clothing
On Second Thought Consignment 931-244-7244
COMPUTER REPAIR
DAY SPA
Envy Tanning & Spa 931-762-3689

ELECTRICAL & PLUMBING
Rick's Electrical & Plumbing 931-242-5325
ELECTRONICS
Lynn Electronics 762-0401
EXCAVATING / GRADING
Newton Backhoe Service 931-242-0305
FLORIST

Lawrenceburg Florist 762-3722
McKelvey's Flowers 762-4511

FUNERAL HOMES

Pettus-Turnbo Funeral Home 762-3291
FURNITURE
Green's Furniture
Swap & Shop Center
GIFTS
GLASS REPAIR
Lawrenceburg Glass 766-1004
HARDWARE
HEALTH PRODUCTS
Salt Glow 931-279-4780
HOBBY
INSURANCE
Aarons Insurance 931-629-8065
Baker Agency 762-4550
Wall-Modrall Insurance 762-6528
JEWELRY
Dixon's Fine Jewelry 762-9979
LAWN CARE


Dustin's Lawn Care 242-4414
MEDICAL
NATURAL FOODSNature's Nuggests 762-2895
OUTDOOR
Randy's Cycle & ATV 762-2450
PARTY / SUPPLIES
PAWN
Mo's Pawn Shop 762-2529
PHARMACY
Holland's Pharmacy 931-762-2220
POOLS/ SUPPLIES
By Pass Pools 931-762-7904

REAL ESTATE
RENTAL
RESTAURANTS
SPORTING GOODS
Fox Sporting Goods 931-766-0313


TANNING
Envy Tanning & Spa
931-762-3689
TIRES
Groucho's Tires 931-762-1707
TRAVEL
Thursday, May 4, 2017
Increase in Pet Thefts Should Raise Awareness
Chris D. Jackson, Chairman Pro-Tempore, Lawrence County Commission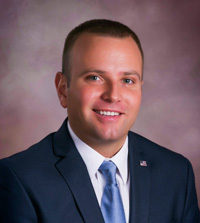 Last week, the Lawrence County Sheriff's Department sought the public's help in finding a vehicle thought to be involved in a string of recent dog thefts around our county. The description of the vehicle in question is a White Chevy S10, single-cab style with Alabama tags. It has also been reported that the truck has black decals that go from the doors all the way to the fender. If you happen to see this vehicle or have information regarding it, be sure to call 762-0450 to alert the proper authorities.
Unfortunately, dognapping is a growing problem in our county and around the country For most of us, our pets are like members of our family. That is why it is important to remain vigilant with your pets and practice these simple tips to help guard against having your pet stolen:
1) Always keep a close eye on your dog when it is not on the leash, even if they are just in the yard.
2) Don't leave your dog unattended in your car at the store or any other public place.
3) Don't tie your dog outside of a store or any other public place.
4) Take advantage of microchipping and GPS technology to help identify and find your dog.
5) Be cognizant of the fact that many thiefs use pet photos on social media as a way of finding potential victims
While these tips may seem to be common sense, all too often we don't practice them and that's when our pets come up missing. That's why it is always best to err on the side of safety and caution in dealing with our pets.
On a related note, this week the county commission will have our first meeting about instituting some common sense animal control laws in the county. Currently, there are no animal control laws on the books for unincorporated areas in our county, so addressing any animal issues is often hard to deal with.
I am hopeful these discussions will be productive and will lead us to humane solutions that will help us address how animals should be treated and controlled in our county. It's not only a law enforcement issue, but also a moral one that we as a county need to finally tackle.