Friday, April 20, 2018
Lawrence County Democratic Party will host a family BBQ and Candidate Meet and Greet
The Lawrence County Democratic Party will host a family BBQ and Candidate Meet and Greet on May 3rd beginning at 6pm at the Summertown Bridle and Saddle Club.

Homemade BBQ plates including meat, bread, beans, and coleslaw can be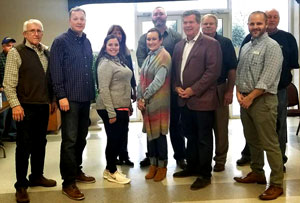 purchased for $5. Meals also include a drink and dessert.
Candidates and elected officials who have confirmed attendance are Karl Dean's wife, Anne Davis, a surrogate for Phil Bredesen, Justin Kanew, candidate for 7th District U.S. Representative, Jessica Yokley, candidate for 70th District State Representative, Frankie Floied, candidate for 71st District State Representative, Sheriff Jimmy Brown, County Clerk Chuck Kizer, County Trustee Kiley Weathers, Circuit Court Clerk Debbie Riddle, County Commissioner Chris Jackson, and others to be announced at a later date.
The party encourages ALL voters to attend this event to get to know your candidates and elected officials. Bring the kids and enjoy a fun evening with great food! For more information, contact (615)430-9501 or lawcodemocrats@gmail.com.