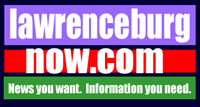 Tuesday, April 13, 2010
Saint Joseph Mayor Endorses Paul Rosson For County Executive
As Mayor of Saint Joseph, I have been able to work alongside County Executive Paul Rosson on several projects benefiting the City of St. Joe.
Paul recently helped the Saint Joseph Fire Department obtain a new $300,000 fire engine through the Community Development Block Grant Program.
Paul has been a great partner to our city on its economic development efforts, teaming with us to recruit and provide infrastructure for the new Dollar General Store.
The county and city have also worked together on several waterline extension projects to provide safe and clean water to residents in our area. Paul traveled to Nashville to support our recent $400,000 grant from the Appalachian Regional Commission to rehab parts of the water system in Saint Joseph and Iron City.
Paul is always just a phone call away and is always ready and willing to help whenever he can. Paul Rosson is a Positive Leader for our County.
I am proud to join Mayor Keith Durham and offer my support for Paul Rosson as County Executive and I hope you'll join me in voting for him in the May 4th Primary or during Early Voting currently underway through April 29th.
David Green
Mayor, Saint Joseph
Free JavaScripts provided
by The JavaScript Source
.
---
---