Friday, April 13, 2018
Enforcement to be increased for parking and speeding in Brewer Park

Lawrenceburg Now

Although parking spaces are not plentiful in Bobby Brewer Memorial Park, Lawrenceburg Police Chief Terry Beecham urges residents to obey parking rules, as enforcement is to be increased.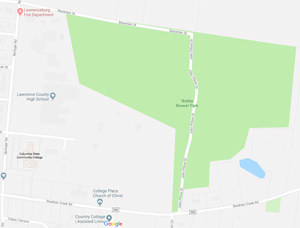 "Between soccer, Buddy Ball, baseball, softball…traffic is quite chaotic," Beecham explained. "People need to remember that the 'no parking' signs were placed there for a reason. "
"The signs are there so that emergency personnel can get through in the event of an emergency, such as if a child breaks an arm. The signs clearly state 'tow away zone. To avoid a citation or court appearance, don't park under the 'no parking' signs."

Parking is prohibited along Beuerlein Street altogether however there is parking available nearby at Lawrence County High School. "To find a safe place to park you're going to have to walk," Beecham acknowledged. He warns residents to avoid parking at the church situated adjacent to the parking lot, which is private property.

Enforcement will also be increased in regards to posted speed limits. "We're going to start running radar in the park…Those speed signs will carry some weight," Beecham explained.

The posted speed limit on Beuerlein Street, from Springer Road to John Pillow Drive is 15 miles per hour. Along John Pillow Drive, from Beuerlein Street to Weakley Creek Road the speed limit is 10 miles per hour.

"If you're running late," Beecham advises, "don't exceed the speed limit…Speed and parking will now be strictly enforced."