APPLIANCE REPAIR
Kelly Appliance & Vacuum 931-244-7200
AIR CONDITIONING
D.E. Hill & Son 762-9584
ASSISTED LIVING


Summit of Lawrenceburg 762-3524
AUTO REPAIR

Chapman Tire 931-829-2155
J & G Tire Center 931-762-0078
BANKS


Bank of Frankewing 762-6800
Lawrenceburg Federal Bank 931-762-7571
CINEMAS
CLINICS


One Stop Medical 762-9797
Seven Springs Orthopaedics 244-7181

COMPUTER REPAIR
Nerd's Computer Repair
DAY SPA
Envy Tanning & Spa 931-762-3689

ELECTRICAL & PLUMBING
Rick's Electrical & Plumbing 931-242-5325
ELECTRONICS
Lynn Electronics 762-0401
E CIGARETTES
FLORIST

Lawrenceburg Florist 762-3722
McKelvey's Flowers 762-4511

FUNERAL HOMES

Pettus-Turnbo Funeral Home 762-3291
FURNITURE
Green's Furniture
Swap & Shop Center
GIFTS
GLASS REPAIR
Lawrenceburg Glass 766-1004
HARDWARE


True Value Hardware 762-7516
HEALTH PRODUCTS
Salt Glow 931-279-4780
HOBBY
INSURANCE
Aarons Insurance 931-629-8065
Baker Agency 762-4550
Markus Insurance 762-9401
Wall-Modrall Insurance 762-6528
JEWELRY
Dixon's Fine Jewelry 762-9979
LAWN CARE


Dustin's Lawn Care 242-4414
MEDICAL
Seven Springs Orthopaedics 244-7181
NATURAL FOODSNature's Nuggests 762-2895
OUTDOOR
Randy's Cycle & ATV 762-2450
PARTY / SUPPLIES

The Mad Hatter's Party Wonderland 931-244-7222
PAWN
Mo's Pawn Shop 762-2529
POOLS/ SUPPLIES
By Pass Pools 931-762-7904
Diamond Pools & Spas 762-7189
REAL ESTATE
RENTAL
RESTAURANTS


Sue Sue's Sandwich Shop 762-8879
SPORTING GOODS
Fox Sporting Goods 931-766-0313


TANNING
Envy Tanning & Spa
931-762-3689
TIRES
Groucho's Tires 931-762-1707
TRAVEL
Sunday, March 27, 2016
Lawrence County Unemployment Rate Lowest in 18 Years
Lawrence County Government Press Release
New unemployment figures released by the Tennessee Department of Labor and Workforce Development last week show that Lawrence County's unemployment rate decreased again in February from 6.2% to 5.5%, the lowest in almost 18 years. According to the State report, 350 Lawrence Countians found employment in February.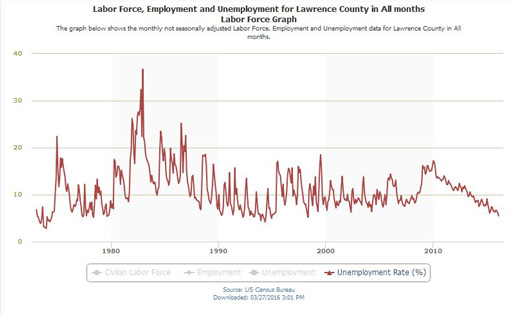 February's unemployment rate of 5.5% represents the best rate Lawrence County has seen since May 1998 when the unemployment rate was 5.2%. In January 2010 at the height of the national recession, the unemployment rate in Lawrence County peaked at 17.2% when 2,880 Lawrence Countians found themselves without a job. In February, the number of Lawrence Countians unemployed was 990, the fewest in any month since May 1994.
County Executive TR Williams and Chairman Pro-Tempore Commissioner Chris Jackson said in a joint statement that the new county job numbers show a positive trend in economic growth. "By everyone working together and addressing key issues like economic development, education and our infrastructure in a proactive manner, our county has dug out of the economic hole we had been in for years and we are now on a stronger path forward," they said.
"While we all welcome these strong numbers, our job isn't over and county leaders won't stop until every middle class family is able to live, work and raise their family here in Lawrence County," they added.
http://lawrencecountytn.gov/News/lawrence-county-unemployment-rate-lowest-in-18-years