AUCTIONS
APPLIANCE REPAIR
Kelly Appliance & Vacuum 931-244-7200
AIR CONDITIONING
D.E. Hill & Son 762-9584
ASSISTED LIVING
AUTO REPAIR


J & G Tire Center 931-762-0078
BANKS
CONSIGNMENT
On Second Thought Consignment 931-244-7244
CINEMAS
CLINICS
Clothing
On Second Thought Consignment 931-244-7244
COMPUTER REPAIR
DAY SPA
Envy Tanning & Spa 931-762-3689

ELECTRICAL & PLUMBING
Rick's Electrical & Plumbing 931-242-5325
ELECTRONICS
Lynn Electronics 762-0401
EXCAVATING / GRADING
Newton Backhoe Service 931-242-0305
FLORIST

Lawrenceburg Florist 762-3722
McKelvey's Flowers 762-4511

FUNERAL HOMES

Pettus-Turnbo Funeral Home 762-3291
FURNITURE
Green's Furniture
Swap & Shop Center
GIFTS
GLASS REPAIR
Lawrenceburg Glass 766-1004
HARDWARE
HEALTH PRODUCTS
Salt Glow 931-279-4780
HOBBY
INSURANCE
Aarons Insurance 931-629-8065
Baker Agency 762-4550
Wall-Modrall Insurance 762-6528
JEWELRY
Dixon's Fine Jewelry 762-9979
LAWN CARE


Dustin's Lawn Care 242-4414
MEDICAL
NATURAL FOODSNature's Nuggests 762-2895
OUTDOOR
Randy's Cycle & ATV 762-2450
PARTY / SUPPLIES
PAWN
Mo's Pawn Shop 762-2529
PHARMACY
POOLS/ SUPPLIES
By Pass Pools 931-762-7904

REAL ESTATE
RENTAL
RESTAURANTS
SPORTING GOODS
Fox Sporting Goods 931-766-0313


TANNING
Envy Tanning & Spa
931-762-3689
TIRES
Groucho's Tires 931-762-1707
TRAVEL
Monday, March 6, 2017
Lawrence County Substance Abuse Coalition meeting held on Monday, February 27 was a success

Topic of discussion at the Lawrence County Substance Abuse Coalition was on Social Hosting and Parents Contributing to a Minor. Captain Adam Brewer with the Lawrence County Sheriff's Department spoke on Social Host laws in Tennessee.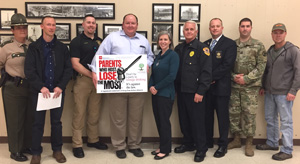 Detective Blake Arnold with the Criminal Investigation department of the Lawrenceburg PD spoke further on the laws regarding Contributing to a Minor. General Brent Cooper added to the presentation from a prosecution standpoint.
Overall message is that parents and young adults hosting parties for underage youth is unhealthy, unsafe and illegal. Members of the coalition were trained on a local conditions activity that will help in future planning.
The training was provided by Captain Kyle Farley with the National Guard Counter Drug Task Force. Coalition members and guests were encouraged to educate others on issues our community faces with parents hosting parties with underage drinking.
Yard signs with the message from Drug Free Action Alliance, "Parents Who Host Lost the Most", were distributed to place in the community to spark conversations and increase awareness. If you have questions or would like a yard sign to place at your home or business, please call 931-244-5533.