APPLIANCE REPAIR
Kelly Appliance & Vacuum 931-244-7200
AIR CONDITIONING
D.E. Hill & Son 762-9584
ASSISTED LIVING


Summit of Lawrenceburg 762-3524
AUTO REPAIR

Chapman Tire 931-829-2155
J & G Tire Center 931-762-0078
BANKS


Bank of Frankewing 762-6800
Lawrenceburg Federal Bank 931-762-7571
CINEMAS
CLINICS


One Stop Medical 762-9797
Seven Springs Orthopaedics 244-7181

COMPUTER REPAIR
Nerd's Computer Repair
DAY SPA
Envy Tanning & Spa 931-762-3689

ELECTRICAL & PLUMBING
Rick's Electrical & Plumbing 931-242-5325
ELECTRONICS
Lynn Electronics 762-0401
E CIGARETTES
FLORIST

Lawrenceburg Florist 762-3722
McKelvey's Flowers 762-4511

FUNERAL HOMES

Pettus-Turnbo Funeral Home 762-3291
FURNITURE
Green's Furniture
Swap & Shop Center
GIFTS
GLASS REPAIR
Lawrenceburg Glass 766-1004
HARDWARE


True Value Hardware 762-7516
HEALTH PRODUCTS
Salt Glow 931-279-4780
HOBBY
INSURANCE
Aarons Insurance 931-629-8065
Baker Agency 762-4550
Markus Insurance 762-9401
Wall-Modrall Insurance 762-6528
JEWELRY
Dixon's Fine Jewelry 762-9979
LAWN CARE


Dustin's Lawn Care 242-4414
MEDICAL
Seven Springs Orthopaedics 244-7181
NATURAL FOODSNature's Nuggests 762-2895
OUTDOOR
Randy's Cycle & ATV 762-2450
PARTY / SUPPLIES

The Mad Hatter's Party Wonderland 931-244-7222
PAWN
Mo's Pawn Shop 762-2529
POOLS/ SUPPLIES
By Pass Pools 931-762-7904
Diamond Pools & Spas 762-7189
REAL ESTATE
RENTAL
RESTAURANTS


Sue Sue's Sandwich Shop 762-8879
SPORTING GOODS
Fox Sporting Goods 931-766-0313


TANNING
Envy Tanning & Spa
931-762-3689
TIRES
Groucho's Tires 931-762-1707
TRAVEL
Saturday, March 6, 2016
Fleeing Murder Suspect Captured In Lawrence County
Press release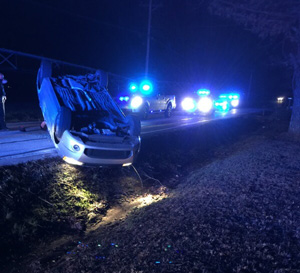 On March 4, 2015, at approximately 6:15 PM authorities in Lawrence County, TN, were requested for assistance regarding a vehicle pursuit in which AL authorities were trying to stop a fleeing murder suspect.
The vehicle pursuit had begun around Patton Island Bridge in the Muscle Shoals area and had stretched to TN via Chisolm Road/Highway 13. The pursuit entered Lawrence County after the suspect turned onto Hwy 227/Iron City Road and continued his flight.

The pursuit was terminated when the suspect, Benjamin Owen Young (28) a resident of Florence, AL, crashed into a City of Loretto, TN, patrol unit causing the suspect vehicle to turn over where it came to a rest on it's top. Benjamin Owen Young was taken into custody and transported to the Lawrence County Detention Center where he is being held without bond for multiple charges including aggravated assault on a police officer, reckless endangerment, and evading arrest.
Benjamin Owen Young was also charged with theft of property when it was learned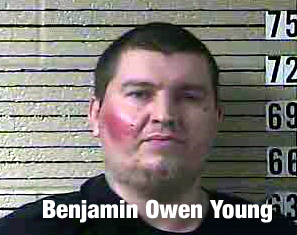 the vehicle he was operating was stolen out of Florence, AL. Benjamin Young will eventually be extradited to Lauderdale County, AL, where he will face charges there. The murder investigation is ongoing through the Tuscumbia, AL, Police Department.
Authorities with Tuscumbia, AL, Florence, AL, Muscle Shoals, AL, Loretto, TN, Saint Joseph, TN, Lawrence County, TN, and the Tennessee Highway Patrol cooperated in the effort.