APPLIANCE REPAIR
Kelly Appliance & Vacuum 931-244-7200
AIR CONDITIONING
D.E. Hill & Son 762-9584
ASSISTED LIVING


Summit of Lawrenceburg 762-3524
AUTO REPAIR

Chapman Tire 931-829-2155
J & G Tire Center 931-762-0078
BANKS


Bank of Frankewing 762-6800
Lawrenceburg Federal Bank 931-762-7571
CINEMAS
CLINICS


One Stop Medical 762-9797
Seven Springs Orthopaedics 244-7181

COMPUTER REPAIR
Nerd's Computer Repair
DAY SPA
Envy Tanning & Spa 931-762-3689

ELECTRICAL & PLUMBING
Rick's Electrical & Plumbing 931-242-5325
ELECTRONICS
Lynn Electronics 762-0401
E CIGARETTES
FLORIST

Lawrenceburg Florist 762-3722
McKelvey's Flowers 762-4511

FUNERAL HOMES

Pettus-Turnbo Funeral Home 762-3291
FURNITURE
Green's Furniture
Swap & Shop Center
GIFTS
GLASS REPAIR
Lawrenceburg Glass 766-1004
HARDWARE


True Value Hardware 762-7516
HEALTH PRODUCTS
Salt Glow 931-279-4780
HOBBY
INSURANCE
Aarons Insurance 931-629-8065
Baker Agency 762-4550
Markus Insurance 762-9401
Wall-Modrall Insurance 762-6528
JEWELRY
Dixon's Fine Jewelry 762-9979
LAWN CARE


Dustin's Lawn Care 242-4414
MEDICAL
Seven Springs Orthopaedics 244-7181
NATURAL FOODSNature's Nuggests 762-2895
OUTDOOR
Randy's Cycle & ATV 762-2450
PARTY / SUPPLIES

The Mad Hatter's Party Wonderland 931-244-7222
PAWN
Mo's Pawn Shop 762-2529
POOLS/ SUPPLIES
By Pass Pools 931-762-7904
Diamond Pools & Spas 762-7189
REAL ESTATE
RENTAL
RESTAURANTS


Sue Sue's Sandwich Shop 762-8879
SPORTING GOODS
Fox Sporting Goods 931-766-0313


TANNING
Envy Tanning & Spa
931-762-3689
TIRES
Groucho's Tires 931-762-1707
TRAVEL
Friday, February 19, 2016
Schools and Community: Working Together for Student Success
Ethridge Elementary School continues to be grateful to the community for working together during the EES "Groovy 60's" Book Fair for our students.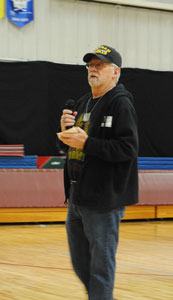 Because of the community's support the students were motivated to learn through fun and real life experiences. As a historical part of the "Groovy 60's Book Fair" Vietnam War Veteran, Al Hardy spoke to the EES 6-8th grade students about the history of the Vietnam War.
Hardy shared his personal experiences during the war and how they affected his life. The Lawrence County Classic Car Club treated the students to a car show featuring cars from the 60's and several other eras during the groovy book fair.
Domino's Pizza & Hardee's were businesses that started in the 1960's and they provided pizzas and hamburgers for the "Groovy 60's" Family Night.