AUCTIONS
APPLIANCE REPAIR
Kelly Appliance & Vacuum 931-244-7200
AIR CONDITIONING
D.E. Hill & Son 762-9584
ASSISTED LIVING
AUTO REPAIR


J & G Tire Center 931-762-0078
BANKS
CONSIGNMENT
On Second Thought Consignment 931-244-7244
CINEMAS
CLINICS
Clothing
On Second Thought Consignment 931-244-7244
COMPUTER REPAIR
DAY SPA
Envy Tanning & Spa 931-762-3689

ELECTRICAL & PLUMBING
Rick's Electrical & Plumbing 931-242-5325
ELECTRONICS
Lynn Electronics 762-0401
FLORIST

Lawrenceburg Florist 762-3722
McKelvey's Flowers 762-4511

FUNERAL HOMES

Pettus-Turnbo Funeral Home 762-3291
FURNITURE
Green's Furniture
Swap & Shop Center
GIFTS
GLASS REPAIR
Lawrenceburg Glass 766-1004
HARDWARE


True Value Hardware 762-7516
HEALTH PRODUCTS
Salt Glow 931-279-4780
HOBBY
INSURANCE
Aarons Insurance 931-629-8065
Baker Agency 762-4550
Markus Insurance 762-9401
Wall-Modrall Insurance 762-6528
JEWELRY
Dixon's Fine Jewelry 762-9979
LAWN CARE


Dustin's Lawn Care 242-4414
MEDICAL
NATURAL FOODSNature's Nuggests 762-2895
OUTDOOR
Randy's Cycle & ATV 762-2450
PARTY / SUPPLIES
PAWN
Mo's Pawn Shop 762-2529
PHARMACY
POOLS/ SUPPLIES
By Pass Pools 931-762-7904

REAL ESTATE
RENTAL
RESTAURANTS
SPORTING GOODS
Fox Sporting Goods 931-766-0313


TANNING
Envy Tanning & Spa
931-762-3689
TIRES
Groucho's Tires 931-762-1707
TRAVEL
Wednesday, February 1, 2017
West, Conley are local Volunteer Stars
From the County Executive's office
Two Lawrence Countians known for responding to the needs they see around them will be honored February 12 with the Governor's Volunteer Stars Award.
Jeff West and Sara Beth Conley are Lawrence County's adult and youth recipients,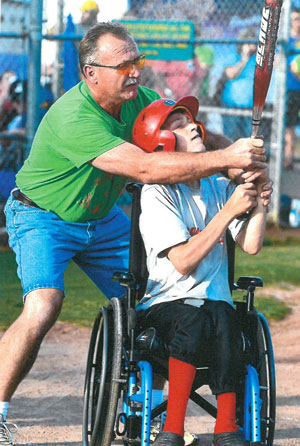 respectively, of the annual award given to two outstanding volunteers from each participating county. The statewide awards ceremony will be held at Marriott Cool Springs.
Jeff and Sherry West began their involvement with the Miracle League (then Buddy Ball) as spectators. "Just being up there, cheering in the stands, gives you a blessing," he said. After a season or two, he was asked to serve as a pitcher.
"It's the best job in the world, and the best view in the house." When one of the athletes connects bat and ball, he said, "My heart almost beats out of my chest."
The Wests have also been involved in the fundraising effort for the Miracle League ball field (Abigail's Plan) under construction at Bobby Brewer Park. "I can't do enough, because it has blessed me so much. Anybody who hasn't been to a game should just go listen and watch."
On a tour of the new Keestone facility, West learned that a volunteer who made milkshakes for the residents could no longer come. "God laid it on my heart and I said 'I'll do it. It can't be that hard to make a milkshake.'" Residents' appreciation more than pays him for his time, he added.
He has also organized numerous benefits for Lawrence Countians facing illness and financial need. Friends Kent and Maylon Fisher and others are quick to offer their fish-frying services whenever he asks. "I just kind of get it going," West said. "It's amazing what can be raised for these folks. They don't need to worry about their finances; they just need to worry about getting well."
He said he is humbled by the Governor's award. "I'm just a country boy who loves helping people. There are so many Lawrence County people who give so many hours away – everyone involved in Abigail's Plan, and our Volunteer Fire Departments – there's no shortage of people to get this award."
He continues to be inspired by his mother, who at 80 does all she can for others in his hometown of Normandy, Tennessee. "I have the best mom in the world," he said. "My mom will do for anybody, and always has."
Loretto High School senior Sara Beth Conley is the youth honoree. In addition to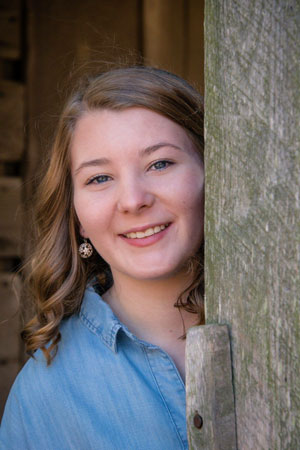 completing over 175 hours of community service work (since she started counting them in 2013) she has maintained a 4.0 grade point average and scored 30 on the ACT. She will begin her studies at Union University this fall, and hopes to return as a teacher in Lawrence County.
LHS Counselor Christy Wilson writes, "Sara Beth believes in giving back to the community. She has a desire to make a difference and has found that opportunity through her volunteerism."
Conley remembers her first project was working with other young teens at Leoma Baptist Church to collect items for God's Storehouse, but her mom says she started working at the church Vacation Bible School even before that.
"She did that as soon as she was able to, about the sixth grade," Trish Williams recalls. Asked what she believes drives her daughter, she said simply, "It's her love for the Lord."
"I see the needs we have in our community, and I think I can at least try to make the difference," Conley said.
She has also traveled to Brunswick, Georgia and Denver, Colorado with church mission teams, and has served at the Nashville Rescue Mission. At school, she has worked with the LHS Beta Club, Interact Club, and Future Business Leaders of America.
"As a young adult in a rural area, Sara Beth has shown outstanding leadership abilities by not only joining the organizations, but also serving as an officer," Wilson writes. "She is currently President of the Interact club, Student Government Association Treasurer, and National Beta Club Secretary. She represented Loretto High School at Girls State in 2016. Sara Beth serves as the Chief Marketing Officer of our Virtual Enterprise class company The Animal Kingdom, Inc."
Conley is the daughter of Trish and Kevin Williams and Virgil Conley. Jeff and Sherry West have two daughters, Emily West and Jessica West Staggs. The Wests are active members of West Point Baptist church.