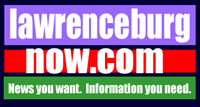 Monday, January 4, 2010
New Year's Day Stabbing Lands One In Jail
A stabbing incident that occurred on New Year's Day landed one man in the hospital and one in jail.
According to reports filed through the Lawrence County Sheriff's Department deputies were dispatched on the domestic disturbance call to 367 State Line Road around 1:45 p.m. The victim, age 38, met deputies outside his home. Deputies noted he had sustained stab wounds to the lower left abdomen and back of the left leg.
The victim named Brent Darnell Rowden, 31, of 48 Turnpike, as his attacker. He indicated they had become involved in an argument over Rowden's criminal history. During the argument the victim reports that Rowden "came at him with a butterfly knife." Following the stabbing, the victim reported Rowden left the residence on foot.
Deputies located Rowden shortly at a home situated across the street. He was placed under arrest on charges of violation of probation, two counts of forgery, theft, and aggravated assault. Rowden will be required to answer the charges through Lawrence County General Sessions Court on February 1, 2010.
The victim was airlifted to Vanderbilt University Medical Center in Nashville to undergo medical treatment.
Free JavaScripts provided
by The JavaScript Source
.
---
---